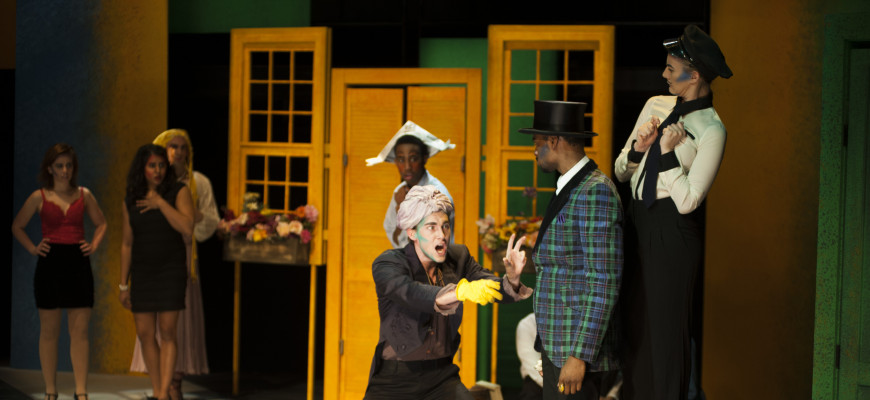 Comedy of Errors
Deadlines

Please note that callbacks are offered on a rolling basis, the sooner your materials are submitted the better.

Fall Application: December 30, 2022

Video Audition: January 6, 2023

Early Action and Spring: Not available

Application Requirements

Application Fee: $50 for either application

Academic Transcripts

Video Auditions

Letter of Recommendation

---

Audition Requirements and Dates (updated)

Mandatory Requirements

All applicants to the acting program for fall 2023 must submit the following to be considered for an acting program callback:

Video audition submission
Picture and resume
Acting audition form
Non-refundable payment of $55
 

All materials must be submitted via the Admissions Portal.Callbacks are offered on a rolling basis, the sooner you complete the requirements the sooner faculty can review your videos and get you a callback decision.

Callbacks are offered on a rolling basis, the sooner students complete the requirements the sooner faculty can review student videos and get students a callback decision. If selected for a callback, students will be notified no later than the week of January 19th. We encourage students to complete requirements as soon as possible.

Callbacks will take place in person both on campus and at the NYC Unified Auditions.

The NYC Unified Auditions will be held: January 28th and January 29th

On Campus callback auditions will be held: February 18th and February 19th 



Acting audition times are set for Eastern Standard Time. For those in another time zone please plan accordingly.

Admission to the BFA Acting program is highly competitive and based on a required audition process conducted by the Acting Faculty and a review of the student's overall application by Admissions staff. Only exceptionally talented actors who can demonstrate talent, creativity, and commitment will be offered admission.

Video Auditions

All video auditions should include the following:

Please submit the following three videos:

Video 1. A contemporary monologue (written in the last 100 years).

Video 2. A classical monologue (the language or circumstance is heightened). Shakespeare is preferred but we are also excited by other classical/verse texts. Some examples of other classical authors include Aphra Behn, Pedro Calderón de la Barca, Sor Juana Inés de la Cruz, Lope de Vega, and Kalidasa.

If you are an English as a second language speaker, you are welcome to do this piece in your first language.

Video 3. Your Artist's Story  Share something about yourself as an artist in a video less than 2 minutes. As an alternative to a video, you can submit an essay on this topic.

Some questions or ideas to spark your imagination:

What is your artist's story?
What kinds of stories excite you and how do you hope to impact audiences?
Share your work as an artist outside of acting: play an instrument; share a painting or a song of yours. This is less about hearing 16 bars of a song and more about hearing your passion for artistry.

How to approach your video monologues

We are looking for imaginative actors capable of bringing their authentic self to a wide range of circumstances. The pieces should show a range. Often, that is taken to mean comedic vs dramatic. That distinction is less important than that you show the range of your character's physical life, relationships (who you are speaking to) and given circumstances (where is the monologue taking place and what happened the moment before you started speaking). Additional standards:

Each monologue should be roughly 90 seconds to two minutes in length.
Only choose material from published plays and make sure you have read the entire play.
Please submit three separate videos, not one large one.
Upload videos or share links in the Admissions Portal.

 

Please introduce each monologue with the following:

Your first and last name
The date
Name of the play
Name of the author
Name of the character

Picture and Resume

A snapshot will do if you do not have an 8 x 10 headshot.

Be sure that your name, address, and telephone number(s), are included on your resume. Your resume should include a complete list of theatrical activities.

Callbacks

If you receive an invitation for a callback, be prepared with three or four pieces. We won't ask to see all of them, but we may ask what they are and to see one or two.

If you didn't previously submit Shakespeare, for example, we might want to see one. If you didn't submit a comedy piece, we might like to see something along those lines.

We may ask you to sing, even if you are not a singer.

Be prepared to work with your auditors. This callback will be a work session and hopefully fun!

---

Visit the Acting BFA program to get answers to the most frequently asked questions.

For additional information about the acting BFA program, visit Conservatory of Theatre Arts.