Students are encouraged to become involved in campus sustainability efforts from the moment they arrive at Purchase.
Sustainability is an integral part of living and learning at Purchase College from Freshman move-in to commencement. We hope to inspire all students to abide by and advance our standard of sustainability during their time at the College. There are various opportunities for students to become a more sustainable member of the Purchase community.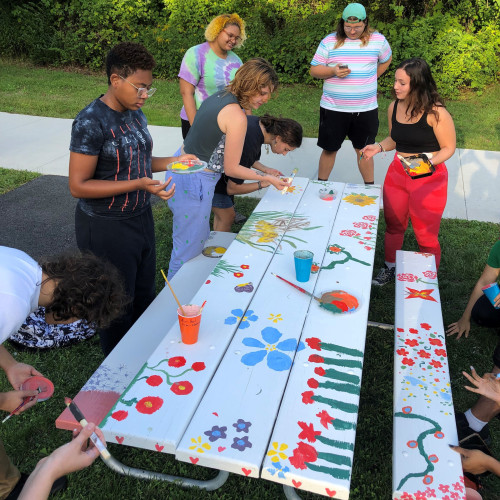 (Image: Students paint the picnic table in the native plant garden, Fall 2022)
Green Team- A club led by students to approach sustainability from every angle, from waste initiatives to promoting environmental activism in local politics to making crafts with recycled materials. 
Green Fee- A PSGA committee comprised of students, faculty and staff tasked with allocating a ~$25,000 budget for green initiatives, programs and projects on campus. 
Events and volunteer opportunities- Stay informed about events and opportunities by subscribing to our newsletter or visiting our News and Events web page. Our biggest events include RecycleMania, Earth Week and Food Recovery.
Jobs and internships- Students are given ample opportunities to gain professional experience, through sustainability related jobs and internships including:
Sustainability Curriculum- Interested in taking a sustainability-themed course? Check out our most recent course inventory of classes that involve sustainability topics like our Environmental Studies major and minor.