We all enjoy the sun on our faces, the dirt under our feet, and the air we breathe. But our environment is fragile. And it needs someone like you to protect it.
We're at a turning point for our planet, and it's not just global warming. Our oceans, forests, and wildlife are all a delicate balance, and right now, they're at risk. 
It's not just about science (although science is a big part). To tackle this problem, you'll need to become an economist, sociologist, and psychologist. And a fighter.
Our program will prepare you to lead one of the most important fields of your generation, as you literally take on the world.
---
---
Choose Your Concentration
Do you see yourself affecting change from the field or through policy? Either way, there's a path for you here. All environmental science students choose a concentration in either Ecology or Policy. See the coursework for each.
Real Experience
All Environmental Studies majors must complete an internship requirement. Check out our Internship Blog to get a sense of what our students have done.
And there are plenty of opportunities in and out of the classroom to get your hands dirty, literally or figuratively. Our 500-acre campus provides plenty of green space, plants, and wildlife to study. And the Long Island Sound nearby also provides fertile ground for study.
Research Opportunities
As part of the college-wide Senior Project requirement, you'll work one-on-one with a faculty advisor to devise and conduct an original research project during your senior year. It's unusual to find an opportunity similar to this at a small liberal arts college, and precisely why the experience here is distinctive. 
Some present their findings to peers, faculty, staff, and guests at the annual Natural and Social Sciences Student Research Symposium held each spring and modeled after professional science symposia. 
Mentoring Faculty
Our faculty truly enjoy empowering students in the classroom, lab, and field. Our classes are small, and your professors will know your name for sure. You'll never sit in a crowded lecture hall with a grad student running the class. But you will know what it means to work side by side with a professor for a year or more on your academic journey.
It's different here.
---
Life of the Environmental Studies major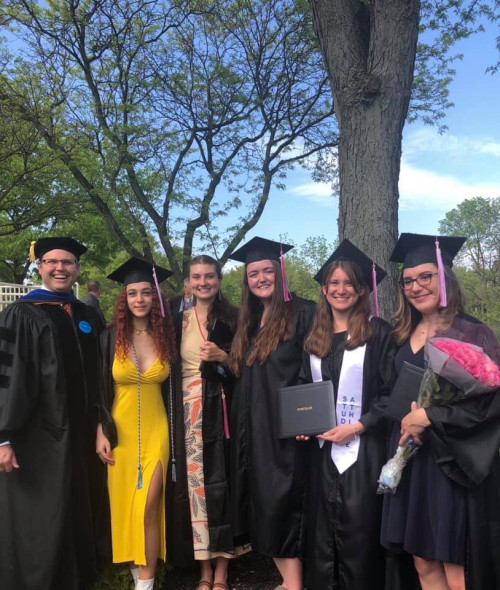 #ProofofPurchase
Environmental Studies, Concentration: Ecology

Ecologist, Author, and Professor

Environmental Science
Professor and Lab Director

Environmental Science

Travel Photographer, Writer, Influencer

Visual arts and environmental studies
---
Inside Environmental Studies
A collaboration between the Environmental Studies program and the Sustainability Office sparked a search for species on the Purchase campus.

The interpretive signs in the Purchase Native Pollinator Garden resulted from collaboration between environmental studies, arts management, and graphic design.