Thank you to everyone who attended the 2018 Family Day. We had over 1400 families and guests attend our event.  We look forward to seeing you on Saturday, October 5, 2019 for next years Family Day!
Family Day is an exceptional opportunity for parents and extended family members to get to know their student's friends and make some new friends. This event is for all parents, siblings, and extended family of Purchase College students.  There will be lots happening on campus. Come and spend the day at your leisure enjoying time with your student! 
Registration
The $15 registration fee ($5 for children under 12) includes an all-you-can-eat Brunch at our Dining Hall, free access to all our carnival events, and activities through out the day. 
Online registration for Family Day has closed. Tickets can be purchased the day off using cash or credit in front of the Main Dining Hall. 
Purchase students do not need to register/pay for Family Day.  Students enrolled in a meal plan will use a meal swipe for the Brunch in the Dining Hall. 
Travel Information
Looking to spend the weekend in town?  Learn about Where to Stay and Eat to explore your options. 
 All visitors should park in the West 1 parking lot when you arrive to campus.  See our campus map for details.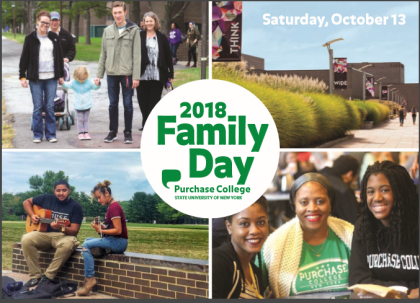 Fall 2019 Schedule will be posted in September 2019. 
Fall 2018 Schedule: 
This event will happen rain or shine. Alternate rain locations have been identified for the outdoor events. 
9:30am-1:30pm
Registration & Check-in Table; Main Dining Hall Entrance 
10:00am-12:00pm
Family Day Jazz Brunch Seating #1; Main Dining Hall
10:00am-11:00am                                                                                                                                                                                                                                                SUNY Financial Aid Day; Humanities 1032 (Families or individuals can register  here);
11:00am-3:00pm
Family Day Carnival; Red Room, Student Services Building 
11:30am-12:30pm                                                                                                                                                                                                                                                  SUNY Financial Aid Day; Humanities 1032 (Families or individuals can register  here). 
12:00 – 2:00pm
Family Day Jazz Brunch Seating #2; Main Dining Hall 
12:00 – 5:00pm
Neuberger Museum Hours; Docent led tours available from 12:30-2:00pm
12:00pm
Men's Soccer vs. St. Joseph's; Turf Field 
12:30-2:00pm
The Olde's  Gallery Crawl; Academic Mall outside of Student Services Building 
2:00-3:00pm
Mission IMPROVable Show; Music Building 1001  
2:00-3:30pm
Vice President Wine & Cheese Meet and Greet Reception; Humanities Lobby 
8:00pm 
American String Quartet with Salman Rushdie; $5 Discount tickets available at the Performing Arts Center box office the day of the show. Limited tickets available. 
If you need accommodations for this event, please contact Anastasia Knapp via email at anastasia.knapp@purchase.edu or call (914) 251-6335 at least a week before the event.