Join us on Saturday, October 13, 2018 for this year's Family Day!
Family Day is an exceptional opportunity for parents and extended family members to get to know their student's friends and make some new friends. This event is for all parents, siblings, and extended family of Purchase College students.  There will be lots happening on campus. Come and spend the day at your leisure enjoying time with your student! 
Registration
The $15 registration fee ($5 for children under 12) includes an all-you-can-eat Brunch at our Dining Hall, free access to all our carnival events, and activities through out the day. 
Registration will be available starting on Monday, July 23.
Online registration closes October 11 at 5:00pm.
Purchase students do not need to register/pay for Family Day.  Students enrolled in a meal plan will use a meal swipe for the Brunch in the Dining Hall. 
Hotel information: Looking to spend the weekend in town?  Learn about Where to Stay and Eat to explore your options. 
 All visitors should park in the West 1 parking lot when you arrive to campus.  See our campus map for details.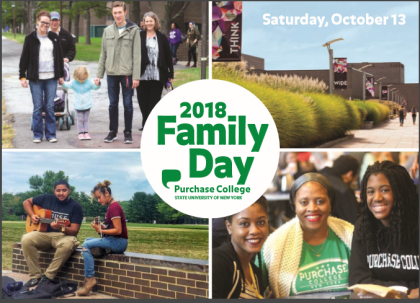 The 2018 schedule will be posted in October 2018

Sample schedule from 2017:
10:30am-1:30pm
Family Day Jazz Brunch

11:00am-1:00pm
Multicultural Center Discussions and Open House
11:00am-12:00pm
SUNY Financial Aid Day Workshop
11:30am-2:00pm
Family Day Carnival
12:00 – 4:00pm
Escape Room: Family Edition
12:00pm
Women's Soccer vs. MSMC
12:00pm
Women's Volleyball Match
1:00-3:00pm
The Olde's Apple Cider Gallery Crawl
2:00-3:30pm
President's Wine and Cheese Reception for Families