The best thing about memories… is making them!
Events are always happening on campus, but major events only come around at special times of year.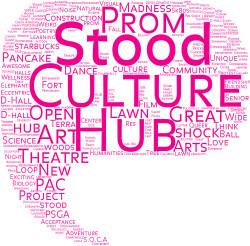 Pancake Madness
Reported as most student's favorite event on campus, Pancake Madness is held each semester the night before finals start. A night full of food, dancing and free shirts, Pancake Madness finishes the semester with a bang - just make sure you catch one of the shirts before they run out!
Hosted with Purchase Dining Services.
Welcome Week
Welcome Week occurs at the beginning of the fall semester and is full of activities to help you get to know your Purchase College home.
We know that students who attend welcome events are more confident when they start classes because they meet new friends, explore academic and co-curricular opportunities, navigate campus, and learn about the Purchase College community.
Family Day 
Family Day is a fall tradition that welcomes family members back to Purchase for a full day of activities and events. The Jazz Brunch is a can't miss highlight of the day where you and your family will feast on carving stations, fresh baked goods and seasonal harvest favorites while listening to the stylings of a student-led Jazz ensemble. We're sure to make sure there are some home athletics games, interactive events and amazing performances in the Performing Arts Center to round out the day.
Senior Class Programming
We hate to see you leave, but we want you to have fun before you go! Graduating seniors are invited to participate in the semester long Senior Series Program that will help prepare you life's most complicated situations like signing leases, traveling the world, or negotiating big purchases. Also, there are many great free events throughout the week of Commencement for May, August, and December graduates.
Hosted with The  Purchase College Association
Purchase Coliseum
Life sized games from your favorite reality tv show: check!
A giant BBQ  with all of your favorite foods: check!
A beautiful spring afternoon with your friends: double check!

Hosted with Purchase Dining Services and Athletics & Recreation; this is the newest tradition to the list. With over 600 students attending, this makes for a great day on campus.
Photo:  Students enjoying programs on The Great Lawn.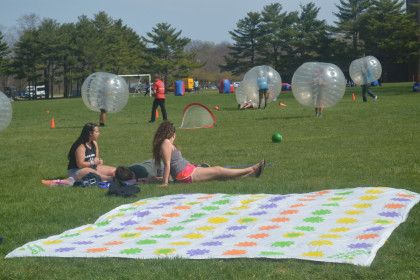 Students enjoying their afternoon on The Great Lawn at the Purchase Coliseum event.