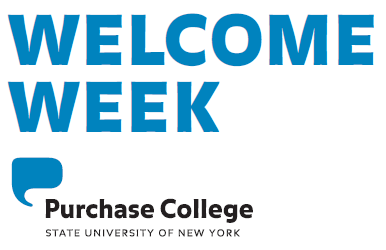 A week full of activities to help you get to know your new home.
We know that students who attend Welcome Week events are more confident when they start classes because they meet new friends, explore academic and co-curricular opportunities, navigate the campus, and learn about the Purchase community.
These social activities are open to the entire campus community and begin on Monday, August 27, 2018.  
Monday, August 27
Six Flags & Bronx Zoo Ticket Sales
Six Flags Tickets $15
Bronx Zoo Tickets $10
Tickets are limited to one per students and are sold on a first come, first served basis starting at 11:00am until supplies last.
First Day Freebies: Wire Art 
Clock tower 12:00-4:00pm
Mentalist Sean Bott
Humanities Theatre 7:30-8:30pm
Tuesday, August 28
Sweet Connections
Multicultural Center, Fort Awesome 11:00am-1:00pm
Out of State Student Meet-Up
Student Services Building, Red Room 1:00-2:30pm
Party with a Purpose with Wellness and Generocksity
Fort Awesome Driveway 3:00-7:00pm
Wednesday, August 29
Campus Resource Fair
Academic Mall 11:00am-2:00pm
Panther Games
Great Lawn 12:00-4:00pm
Workshop with Nuyorican Poet J.F Seary
Multicultural Center 4:00-6:00pm
Open Mic featuring J.F Seary
Southside 8:00-10:00pm
Thursday, August 30
Commuter Student Meet-Up
Commuter Lounge 11:00am-12:30pm
Sustainability @ Purchase College
Entrance of Campus Center South 12:30-2:00pm
Fitness Center Grand Re-Opening
Physical Education Building (The Gym) 3:00pm
Office of Diversity, Equity, Inclusion, and Compliance Open House
Multicultural Center, Fort Awesome 3:00-5:00pm
APIDA Community Welcome with HAPA
Multicultural Center, Fort Awesome 5:00-7:00pm
Disney Trivia Night
Come win great prizes
Student Services Building, Red Room 7:00-8:00pm
Friday, August 31
Transfer Student Meet-Up
Student Services Building, Red Room 11:00am-12:30pm
Students with Disabilities Meet & Greet
Multicultural Center, Fort Awesome 11:00am-12:30pm 
Game Truck @ Purchase College
Central 3 Parking Lot 1:00-5:00pm
Movie on the Lawn: Ocean's 8
Great Lawn 8:00pm
Saturday, September 1
Six Flags Trip
Tickets $15; Limited to one per student
Bus depart West 1 at 8:00am
Monday, September 3
Bronx Zoo Trip
Tickets $10; Limited to one per student
Bus depart West 1 at 9:30am