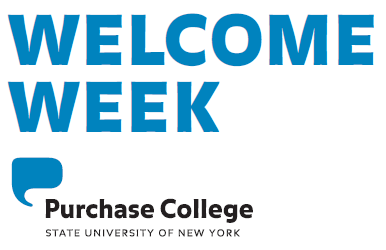 A week full of activities to help you get to know your new home.
We know that students who attend Welcome Week events are more confident when they start classes because they meet new friends, explore academic and co-curricular opportunities, navigate the campus, and learn about the Purchase community.
These social activities are open to the entire campus community and begin on Tuesday, January 22.
Welcome Week Spring 2019
Tuesday 1/22
60 Seconds of Bust Win up to $200; Red Room, Student Services Building 7:00PM
Wednesday 1/23
Commuter Life Presents: Cocoa on the Go; Across Campus 11:00am-1:00pm
Resident Assistant Info Session; Humanities 1032 10:00am
Project Linus @ Purchase College; Humanities Lobby 3:00-4:30pm (MLK Day Observed)
Spin to Win: Come spin to win a prize; Main Dining Hall 5:00-6:30pm
Thursday 1/24
Spin to Win: Come spin to win a prize; Campus Center North Lobby 11:30am-1:00pm
How to be an Activist: A Conversation on Modern Day Activism; Red Room, Student Services Building 2:00-3:15pm (MLK Day Observed)
Art Kits for Kids; Red Room, Student Services Building 3:30-4:30pm (MLK Day Observed)
Women's Basketball vs Mt St Mary's College; Purchase Gym 6:00pm
Men's Basketball vs Mt St Mary's College; Purchase Gym 8:00pm
Friday 1/25
Resident Assistant Info Session; Red Room, Student Services Building 10:00am
Commuter Life Presents: Cupcake Social; Commuter Lounge, Campus Center North 12:30-2:00pm
Time Management Workshop; 2:30-3:30pm; Humanities 1032
Spin to Win: Come spin to win a prize; Student Services Building 2nd floor 3:00-4:30pm
Venom Movie Premiere; Humanities 1032 7:30-9:30pm
Monday 1/28
Spin to Win: Come spin to win a prize; Humanities Building Lobby 9:30-11:00am
Fight the Winter Blues: Sleep Screening with Counseling; Campus Center North Lobby 11:00am-2:00pm
Blood Drive; Red Room, Student Services Building 11:00am-8:00pm
Commuter Life Presents: Pop Culture Trivia; Commuter Lounge, Campus Center North 1:00-2:00pm
Hollywood Murder Mystery Show; Main Dining Hall 5:45pm
Tuesday 1/29
Spin to Win: Come spin to win a prize; Library 3:00-4:30pm
Venom Movie Encore; Humanities 1032 5:00-7:00pm
Brown Bag Bingo: Come win great prizes; Red Room, Student Services Building 7:00pm-8:00pm
Wednesday 1/30
Fight the Winter Blues: Eat Right with Counseling & Dining Services; Terre Ve 12:00-2:00pm
Student Involvement Fair with PSGA; the Stood 12:30-2:30pm featuring free snacks and Spin to Win
Black Light Mini Golf; Red Room, Student Services Building 6:00-10:00pm
Thursday 1/31
Powerful Open Mic hosted by Senator Donyae McCray; Southside 6:00-8:00pm
Men's Volleyball vs Pratt Institute; Purchase Gym 7:00pm
Friday 2/01
Wear Red Day; Campus Center North Lobby 10:00am-12:00pm
Fight the Winter Blues: Exercise Right with Counseling & Athletics; Meet in the Fitness Center Lobby @ 3:00pm
Spin to Win: Come spin to win a prize; Student Services Building Entrance 3:30-5:00pm