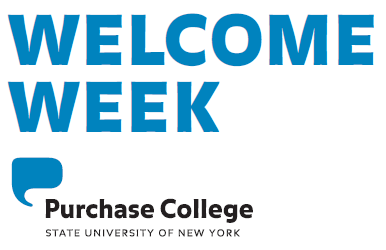 A week full of activities to help you get to know your new home.
We know that students who attend Welcome Week events are more confident when they start classes because they meet new friends, explore academic and co-curricular opportunities, navigate the campus, and learn about the Purchase community.
These social activities are open to the entire campus community and begin on the first day of the semester.
Students who may need accommodations for off campus trips must contact Anastasia Knapp (anastasia.knapp@purchase.edu) 4 days in advance to make arrangements.   
This semester, we are offering a chance to win an Amazon prize package featuring an Amazon Echo Dot, a Fire Stick, and a $25 Amazon gift card. For every Welcome Week event you attend, you will get an entry into our Amazon prize package. You must scan in at events to be counted. The winner will be picked on February 3, 2020 and be notified via their Purchase College email. We hope to see you during our exciting Welcome Week events. Good luck!
Tuesday, January 21
Price It Right: Win Big Game Show
Red Room, Student Services Building; 7:00pm
Wednesday, January 22
Trip To Chicago On Broadway Ticket Sales  - Tickets are SOLD OUT.  
Campus Center North Lobby; 9:00am-1:00pm
Tickets are $10, and are available one per student on a first come, first served basis. Any additional tickets, will be available for purchase in the Office of Community Engagement on the second floor of Campus Center North.
Commuter Life Presents: Cocoa Crazy
Humanities Building Lobby; 2:00-4:00pm
Panther Fan Zone
Campus Center North Lobby; 2:00-6:00pm
All who attend will get an extra ticket for the Apple AirPod drawing at the game later that night during halftime.
Men's Basketball VS. St. Joseph's College—Brooklyn
Physical Education Building; 7:00pm
Win a pair of Apple AirPods at halftime.
Thursday, January 23
Airbrush Art
Campus Center North Lobby; 3:00-6:00pm  
Casino Night
Co-Sponsored By Dining Services
Upper Lobby D-Hall; 6:00-9:00pm
Friday, January 24
Spin to Win: Campus Services
Campus Center North Lobby; 12:00-3:00pm
Trivia Bingo Night: Win Big
Humanities Building 1032; 8:00pm
Saturday, January 25
Knives Out Premiere
Red Room, Student Services Building; 4:00pm
Maleficent: Mistress Of Evil Premiere
Red Room, Student Services Building; 8:00pm  
Sunday, January 26
Trip To Chicago On Broadway
Bus Departs Central 1 Lot (Starbucks) @ 12:00Ppm
Selma Movie Screening
In Honor Of MLK Day
Co-Sponsored by the Office of Diversity & Compliance
Multicultural Center, Fort Awesome; 5:00-7:00pm
Monday, January 27
Road To Hope Passport
In Honor Of MLK Day
Co-Sponsored by the Office of Diversity & Compliance
Across Campus; 9:00-5:00pm
Commuter Appreciation Week: Make Your Own Car Care Kit
Sponsored By The Purchase Activities Board
Commuter Lounge; 12:00pm  
Book Club: A Heart In A Body In The World
Co-Sponsored By The Library
Library 1014; 5:30pm  
Brian Miller: Comedy Magician
Red Room; Student Services Building; 8:00pm
Tuesday, January 28
Road To Hope Passport
In Honor of MLK Day
Co-Sponsored by the Office of Diversity & Compliance
Across Campus, 9:00-5:00pm


Commuter Appreciation Week: Breakfast Sandwich Drive Thru
Sponsored By Purchase Activities Board
East 2 Parking Lot; 10:30am-12:00pm
Wednesday, January 29
Road To Hope Passport
In Honor Of MLK Day
Co-Sponsored by the Office of Diversity & Compliance
Across Campus, 9:00-5:00pm
Student Involvement Fair Co-Sponsored by PSGA
Featuring Bubble Tea
The STOOD; 12:30-2:00pm

Happy Plants @ The Student Involvement Fair
Co-Sponsored By Sustainability
The STOOD; 12:00-2:00pm
Senior Series: Last Semester Kick-Off Paint & Sip
Space is limited. Register HERE.
Red Room, Student Services Building; 8:30pm; Red Room, SSB


Thursday, January 30
Road To Hope Passport
In Honor Of MLK Day
Co-Sponsored by the Office of Diversity & Compliance
Across Campus, 9:00-5:00pm


Unity Lunch
In Honor Of MLK Day
Co-Sponsored by the Office of Diversity & Compliance
11:30-1:00pm; Multicultural Center
Commuter Appreciation Week: Ice Cream & Cookies
Sponsored By Purchase Activities Board
Humanities Building Lobby; 12:00-2:00pm;
Blood Drive
Red Room, Student Services Building; 12:00-8:00pm,
Friday, January 31
Give Kids A Smile Day
Sponsored By Purchase Activities Board
Humanities Building Lobby; 12:00-2:00pm
Semester Goal Boards
Humanities Building Lobby; 2:00-4:30pm
Commuter Appreciation Week: Gas Card Raffle Drawing
Sponsored By The Purchase Activities Board
Commuter Lounge, Campus Center North; 5:00pm

Disney Karaoke Night
Wayback 1st Floor Lounge; 8:00pm