Become a Resident Assistant
The Resident Assistant role plays a vital part in building community in the residents halls.  RAs are student leaders on campus who are trained to create welcoming residential environments on campus through programming, one-to-one resident outreaches, and informative bulletin boards.
The Office of Community Engagement has opened it's process to hire the 2020-2021 Resident Assistant (RA) Staff. 
All interested students must attend an information session in order to receive an application for the RA position. Information sessions will review requirements for application, roles and responsibilities of staff members, timeline, important dates, and more.
Information Sessions will be held on:
September 20, 2019 at 10:00am, Red Room
October 3, 2019 at 4:00pm, Red Room
October 6, 2019 at 12:00pm, Red Room
October 9, 2019 at 4:00pm, Red Room
October 11, 2019 at 3:00pm, Red Room
October 14, 2019 at 6:30pm, Red Room
October 23, 2019 at 1:30pm, Humanities 1032
November 5, 2019 at 5:30pm, Humanities 1032
November 11, 2019 at 11:00am, Red Room
January 23, 2020 at 3:00pm, Red Room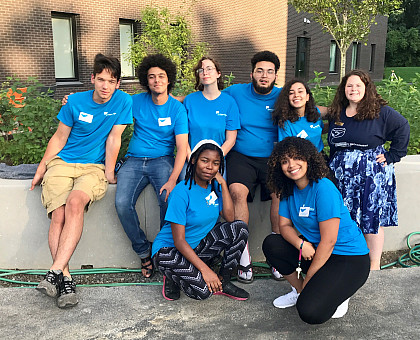 Requirements
You must meet the following academic, student conduct, and other miscellaneous requirements
Must have and maintain at least a 2.75 cumulative GPA
Must maintain a minimum academic credit load of 12 as an undergraduate, or 9 as either 2nd semester senior or graduate student
Experience living in a college residence hall setting is preferred but not required.
You cannot be on any form of probation (academic, residential, or disciplinary) at the time of application or employment.  Any previous probationary or more severe offense with the Office of Community Standards will be evaluated on a case by case basis.
RAs may work up to 10 hours per week on or off-campus
RAs may not double dip:  Work as an RA and SOL* or RA and Office Assistant for OCE.  You are free to apply for multiple roles within the office. (*The Office of Community Engagement will only allow up to 5 students to work as a SOL and an RA)
Job Responsibilities
Some of the responsibilities of the resident assistant include:
Attending one-on-one meetings with your supervisor
All RAs must attend weekly staff meetings on Wednesday during the common time between 1:30pm and 3:00pm
Attend Fall, winter, and spring training
Work residence hall/apartment area opening and closings for breaks and end of the year.
Be a visible presence for your residents on your wing/floor/apartment area
Create and maintain bulletin board(s)