With the health and safety of Purchase students, alumni, employer partners and the campus community as our College's primary concern, the Career Development Center will move to cancel our annual Job & Internship Fair at the Performing Arts Center and subsequently move to a Virtual Career Fair model for employers who have registered for the fair.  If you are registered and did not receive an email from us, please call 914-251-6375.
Please see below for directions (in different file types) from the Career Development Center and directions from Symplicity for the chat for virtual fair day.  
---
March 25, 2020
11:30 AM - 2:30 PM
The Purchase College Career Development Center will host the 17th annual Job and Internship Fair on
Wednesday, March 25, 2020  from 11:30 AM - 2:30 PM
All Employers must be preregistered.  This fair is not open to the general public.
You will have the chance to promote your organization, internships, and part-time and full-time opportunities to our diverse, talented, and enthusiastic students who will be seeking opportunities that begin in summer and fall '20.
General Fair Registration:
Registration for two representatives
4ft table, tablecloth, chairs
Lunch and refreshments
A listing on Purchase JobScore in our Job and Internship Participant Guide
                                For-Profit            Not-for-Profit
Early Bird:           $150                       $75
Standard:            $200                       $100

Extra Rep:            $35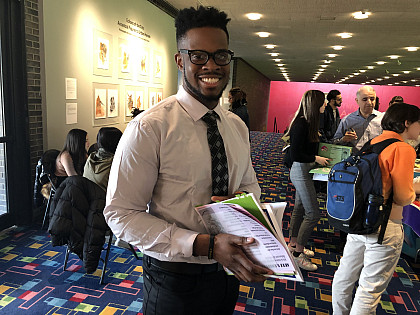 Premier Sponsor of Job & Internship Fair Registration:
Be a partner sponsor of our Job and Internship Fair!  Take advantage of this opportunity to increase your organization's exposure before, during, and beyond the Fair!
Registration for three representatives
6ft table, tablecloth, chairs
Lunch and refreshments
A listing on Purchase JobScore in our Job and Internship Participant Guide
Employer featured in half page add in Participant Guide
Employer Live Link Logo featured on Purchase JobScore
Employer name featured in ad on TV screen in high traffic building
Employer listed as "Featured Organization" on social media platforms & website during pre-fair marketing
Special recognition at the event and in all digital and print publications
Premier high visibility job fair table located near student entrance
Additional resume collection after the fair
Two Information Tables within one semester
For Profit:   $500
Not-for-Profit:  $350