Hello, thank you for visiting my page!
My name is Joshua Eric Rusinov. I am a Lighting Designer & Theatrical Technician in the NYC Area.
I initially began pursuing a career in Mathematics at Wayne State University. But after being reminded of my true passion for theater and the love I have for what I do I switched into a Design and Production major.
After experiencing a full sophomore year at Wayne I applied, was admitted to, and transferred as a sophomore to Purchase College, SUNY, where I have recently graduated, earning a B.F.A. in Theatre Design/Technology with a concentration in lighting design and technical direction.
---
Lighting Design
Fen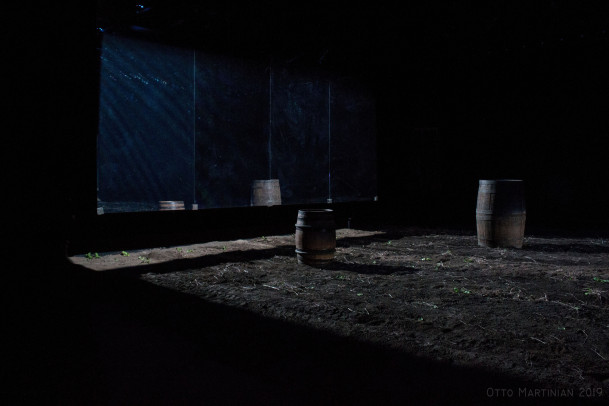 Fen - In the Shadow of the Field Credit: Ryan Dziedziech
Unique Challenges/Elements
This production of Fen was done in a 35' by 50' by 20' black box.
This theater contains a complete wire-rope tension grid
The main scenic element was a large stage deck made of real dirt that needed to be sprayed with water and alcohol nightly

This created challenges with:

Units or Equipment installed in and around the dirt
Power management and planning
The focusing of units above the stage

The other large scenic elements were 2 large mirror walls on SL & SR, this created a lot of room for experimentation with light reflection
Production Credits
Director: Christopher McCann

Lighting Designer: Joshua Eric Rusinov

Scenic Designer: Ryan Dziedziech

Costume Designer: Tessa Pilon

Sound Designer: Keaton Kominsky

Technical Director: Colin Nickel

Production Stage Manager: Kori Broadnax
For more info on this and other shows please visit my website
---
Technical Direction
The Wolves
Production Carpenter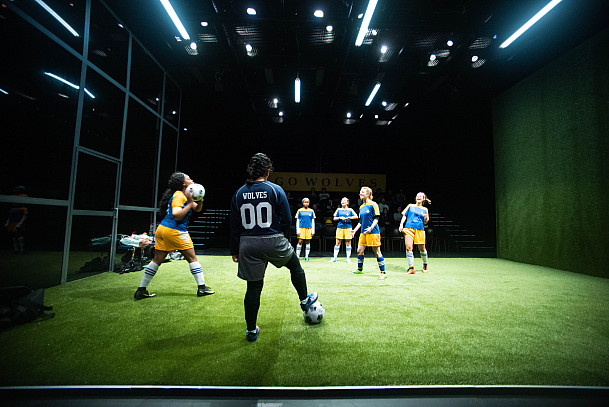 The Wolves - Ready to Play Credit: Zoe Markwalter
Unique Challenges/Elements
Opened a new 35' x 50' Blackbox theater
Required a full survey. As well as the creation of a "As-Built" recreation in multiple drafting platforms.
Discovered the operational pros/cons of the theater's seating equipment
This show was given a $5,000 scenic budget.
Installed a 12' by 16' glass wall
Installed a mirrored wall of turf,
Layed and maintained a turf field.
The Theater was used in a Runway setup.
Production Credits
Director: Sarah Elizabeth Wansley
Scenic Designers: Franny Sebastiano
Lighting Designer: Steven Zhang
Sound Designer: Nina Field
Costume Designer: Kylie Madden
Technical Director: Amber Hennes
Production Carpenter: Joshua Eric Rusinov
For more info on this and other shows please visit my website
AUTOMATION INTERNSHIP
Production Resource Group (2019)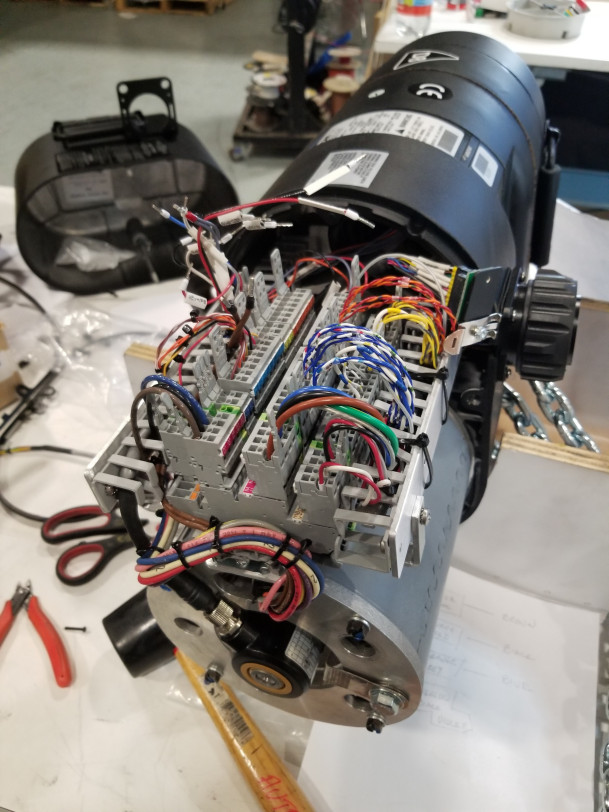 Variable Speed Chain Motor Assembly
For more information on my work in Automation please visit my website
---
For more information about my work in both areas please visit my website at joshuarusinovdeisgns.com or use the buttons labeled "Website" on this page
---