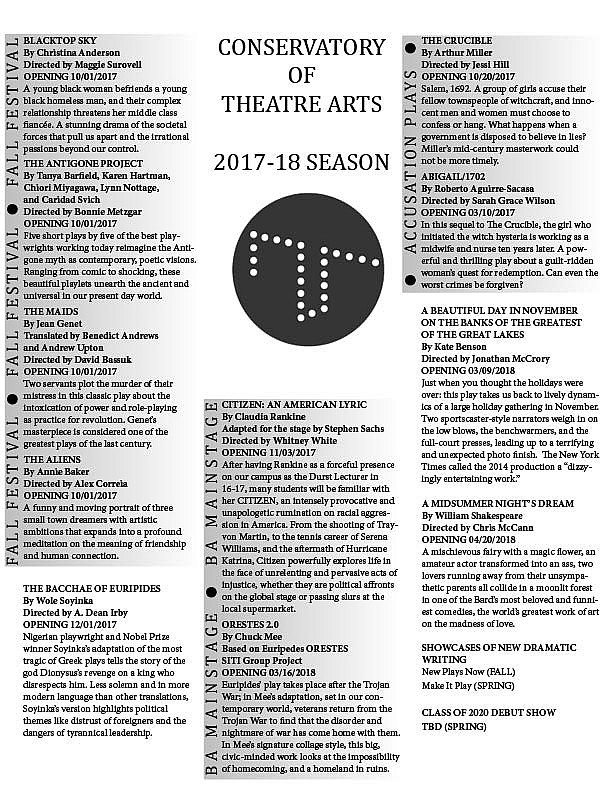 SPRING

A BEAUTIFUL DAY IN NOVEMBER ON THE BANKS OF THE GREATEST OF THE GREAT LAKES
By Kate Benson
Directed by Jonathan McCrory
Friday 3/9/18 7:30 PM
Saturday 3/10/18 1:30 PM
Thursday 3/15/18 7:30 PM
Saturday 3/17/18 7:30 PM
The Repertory Theater at The Performing Arts Center $20
Just when you thought the holidays were over: this play takes us back to lively dynamics of a large holiday gathering in November. Two sportscaster-style narrators weigh in on the low blows, the benchwarmers, and the full-court presses, leading up to a terrifying and unexpected photo finish. The New York Times called the 2014 production a "dizzyingly entertaining work."

ABIGAIL/1702
By Roberto Aguirre-Sacasa
Directed by Elizabeth Van Dyke
Saturday 3/10/18 7:30 PM
Wednesday 3/14/17 7:30 PM
Friday 3/16/18 7:30 PM
Saturday 3/17/18 1:30 PM
The Repertory Theater at The Performing Arts Center $20
In this sequel to The Crucible, the girl who initiated the witch hysteria is working as a midwife and nurse ten years later. A powerful and thrilling play about a guilt-ridden woman's quest for redemption. Can even the worst crimes be forgiven?

ORESTES 2.0
By Chuck Mee
Based on Euripedes ORESTES
SITI Group Project
Directed by Gian-Murray Gianino
Friday 3/16/18 7:30 PM
Saturday 3/17/18 1:30 PM
Saturday 3/17/18 7:30 PM
Thursday 3/22/18 7:30 PM
Friday 3/23/18 7:30 PM
Saturday 3/24/18 1:30 PM
Saturday 3/24/18 7:30 PM
The Humanities Theatre, Humanities Building $20
 Euripides' play takes place after the Trojan War; in Mee's adaptation, set in our contemporary world, veterans return from the Trojan War to find that the disorder and nightmare of war has come home with them. In Mee's signature collage style, this big, civic-minded work looks at the impossibility of homecoming, and a homeland in ruins.

A MIDSUMMER NIGHT'S DREAM
By William Shakespeare
Directed by Chris McCann
Friday 4/20/18 7:30 PM
Saturday 4/21/18 1:30 PM
Saturday 4/21/18 7:30 PM
Wednesday 4/25/18 7:30 PM
Thursday 4/26/18 7:30 PM
Friday 4/27/18 7:30 PM
Saturday 4/28/18 1:30 PM
Saturday 4/28/18 7:30 PM
The Repertory Theater at The Performing Arts Center $20
A mischievous fairy with a magic flower, an amateur actor transformed into an ass, two lovers running away from their unsympathetic parents all collide in a moonlit forest in one of the Bard's most beloved and funniest comedies, the world's greatest work of art on the madness of love.

WORKING: THE MUSICAL
Written By Studs Terkel    
Adapted by Stephen Schwartz, Nina Faso and Gordon Greenburg   
Directed By David Gideon
04/27/2018 @ 7:30p
04/28/2018 @ 1:30p
04/28/2018 @7:30p
05/04/2018 @7:30p
05/05/2018 @ 1:30p
05/05/2018 @ 7:30p
The Underground Theater at The Performing Arts Center FREE TO ALL
Based on Studs Terkel's interviews, Working portrays the average working American: the schoolteacher, the parking lot attendant, the waitress, the millworker, the mason, the trucker, the fireman and the homemaker.  Originally produced in 1978, Terkel's view of the American landscape is still relevant in our contemporary era of income inequality.  New material added for the 2012 revival addresses aspects of 21st Century work life, such as outsourcing, technology, fast-food, caregiving and fundraising.  The music is by Stephen Schwartz, James Taylor, Micki Grant, Craig Carnelia, Mary Rodgers, and Lin Manuel Miranda.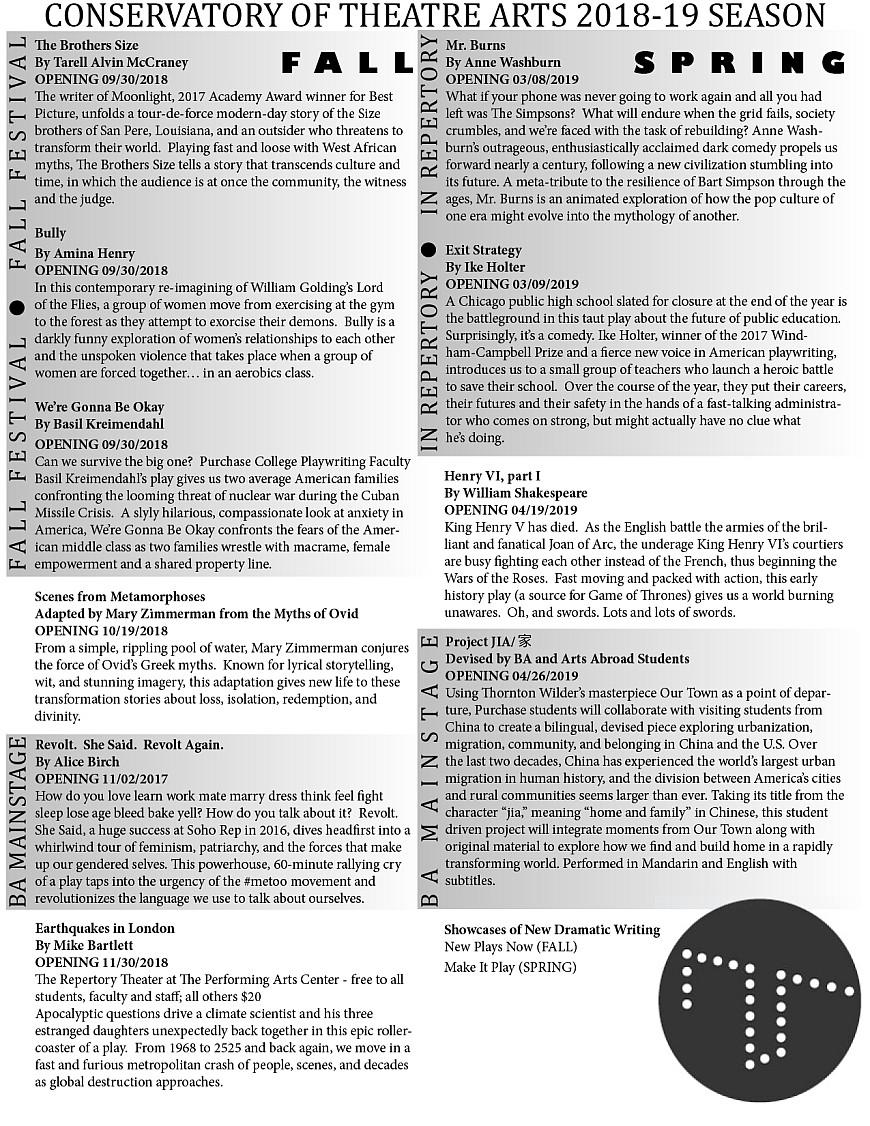 Conservatory of Theatre Arts 2018-19 Season
FALL
The Brothers Size
By Tarell Alvin McCraney
OPENING 09/30/2018
The writer of Moonlight, 2017 Academy Award winner for Best Picture, unfolds a tour-de-force modern-day story of the Size brothers of San Pere, Louisiana, and an outsider who threatens to transform their world. Playing fast and loose with West African myths, The Brothers Size tells a story that transcends culture and time, in which the audience is at once the community, the witness and the judge.
Bully
By Amina Henry
OPENING 09/30/2018
In this contemporary re-imagining of William Golding's Lord of the Flies, a group of women move from exercising at the gym to the forest as they attempt to exorcise their demons. Bully is a darkly funny exploration of women's relationships to each other and the unspoken violence that takes place when a group of women are forced together… in an aerobics class.
We're Gonna Be Okay
By Basil Kreimendahl
OPENING 09/30/2018
Can we survive the big one? Purchase College Playwriting Faculty Basil Kreimendahl's play gives us two average American families confronting the looming threat of nuclear war during the Cuban Missile Crisis.  A slyly hilarious, compassionate look at anxiety in America, We're Gonna Be Okay confronts the fears of the American middle class as two families wrestle with macrame, female empowerment and a shared property line.
Scenes from Metamorphoses
Adapted by Mary Zimmerman from the Myths of Ovid
OPENING 10/19/2018
From a simple, rippling pool of water, Mary Zimmerman conjures the force of Ovid's Greek myths.  Known for lyrical storytelling, wit, and stunning imagery, this adaptation gives new life to these transformation stories about loss, isolation, redemption, and divinity. 
Revolt. She Said.  Revolt Again.
By Alice Birch
OPENING 11/02/2017
How do you love learn work mate marry dress think feel fight sleep lose age bleed bake yell? How do you talk about it? Revolt. She Said, a huge success at Soho Rep in 2016, dives headfirst into a whirlwind tour of feminism, patriarchy, and the forces that make up our gendered selves. This powerhouse, 60-minute rallying cry of a play taps into the urgency of the #metoo movement and revolutionizes the language we use to talk about ourselves.
Earthquakes in London
By Mike Bartlett
OPENING 11/30/2018
Apocalyptic questions drive a climate scientist and his three estranged daughters unexpectedly back together in this epic rollercoaster of a play.  From 1968 to 2525 and back again, we move in a fast and furious metropolitan crash of people, scenes, and decades as global destruction approaches.
SPRING
Mr. Burns
By Anne Washburn
OPENING 03/08/2019
What if your phone was never going to work again and all you had left was The Simpsons?  What will endure when the grid fails, society crumbles, and we're faced with the task of rebuilding? Anne Washburn's outrageous, enthusiastically acclaimed dark comedy propels us forward nearly a century, following a new civilization stumbling into its future. A meta-tribute to the resilience of Bart Simpson through the ages, Mr. Burns is an animated exploration of how the pop culture of one era might evolve into the mythology of another.
Exit Strategy
By Ike Holter
OPENING 03/09/2019
A Chicago public high school slated for closure at the end of the year is the battleground in this taut play about the future of public education. Surprisingly, it's a comedy. Ike Holter, winner of the 2017 Windham-Campbell Prize and a fierce new voice in American playwriting, introduces us to a small group of teachers who launch a heroic battle to save their school.  Over the course of the year, they put their careers, their futures and their safety in the hands of a fast-talking administrator who comes on strong, but might actually have no clue what he's doing.
Henry VI, part I
By William Shakespeare
OPENING 04/19/2019
King Henry V has died. As the English battle the armies of the brilliant and fanatical Joan of Arc, the underage King Henry VI's courtiers are busy fighting each other instead of the French, thus beginning the Wars of the Roses.  Fast moving and packed with action, this early history play (a source for Game of Thrones) gives us a world burning unawares.  Oh, and swords. Lots and lots of swords.
Project JIA
Devised by BA and Arts Abroad Students
OPENING 04/26/2019
Using Thornton Wilder's masterpiece Our Town as a point of departure, Purchase students will collaborate with visiting students from China to create a bilingual, devised piece exploring urbanization, migration, community, and belonging in China and the U.S. Over the last two decades, China has experienced the world's largest urban migration in human history, and the division between America's cities and rural communities seems larger than ever. Taking its title from the character "jia," meaning "home and family" in Chinese, this student driven project will integrate moments from Our Town along with original material to explore how we find and build home in a rapidly transforming world. Performed in Mandarin and English with subtitles.
Showcases of New Dramatic Writing
New Plays Now (FALL)
Make It Play (SPRING)