Gilman Scholarship Spotlight: Sophia Castro-Astor '25
A last-minute decision resulted in the award that made her study abroad experience possible.
Sophia Castro-Astor (journalism) learned about the highly competitive Gilman International Scholarship Program four hours before the deadline to submit three essays for consideration.
With her sights set on a summer study abroad program for journalism, she called her dad, a former journalist himself, for some encouragement. "He said to me, 'if you can't write three good essays in four hours, you have to work on your writing.'"
She dropped everything and got to work. Uncertain of her chances, she was surprised and relieved to learn she received a $4,000 award, which made the trip possible. She'd calculated how long it would take her to save enough money, and she was nearly out of time. "If I didn't get the Gilman Scholarship, I wouldn't have gone," she says.
The scholarship allowed her to spend four weeks last summer in Antibes, France, immersed in both language and international journalism.
Born to Travel
Born in Rio de Janeiro, Brazil, to an American father and Brazilian mother, Castro-Astor moved to New York when she was five and traveled back and forth between the countries every year. Coupled with visiting a relative living in Europe and traveling to Israel with her dance company as a teen, she came to love international travel.
Mixed with Journalism
The Brooklyn resident had little background in journalism beyond her father's occupation. Even as he became disillusioned with the industry, she found it enticing. She came to Purchase undeclared but enrolled in Journalism I with Professor Andrew Salomon her first semester. That's all it took—she declared the major.
An aspiring foreign correspondent, Castro-Astor chose the Summer in France program to experience journalism from an international perspective. The exposure has indeed reinforced her career plan.
"When I went to France, it was so different from what everyone expected. We thought we were going to this very small and very French place, and it was actually filled with people from a lot of different places around the world," she explains.
Antibes is home to Port Vauban, one of the largest yachting ports in the world, which draws a wide array of international travelers.
"That made me more excited for a potential career in the field. You have your expectations about a place, and then you discover that it's something completely different. It makes it more fun to write about," she says.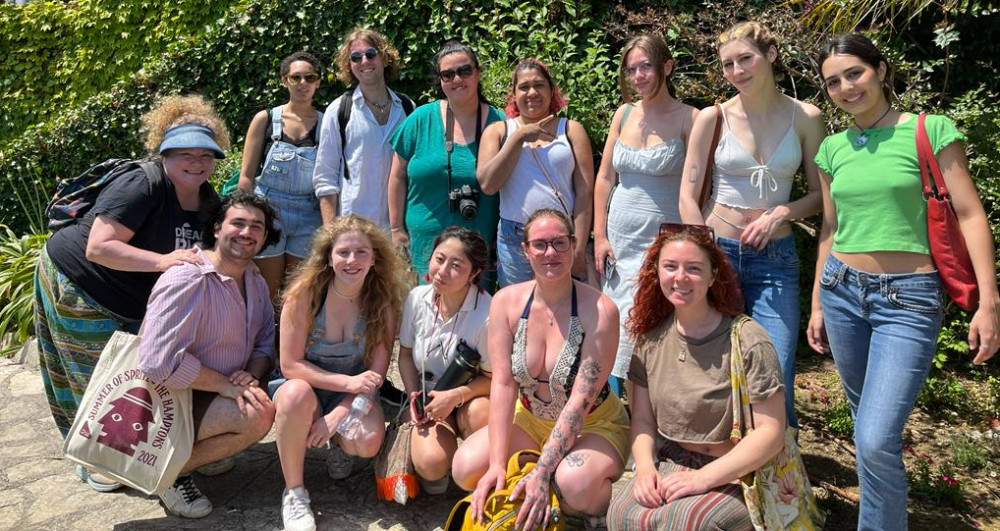 Learn by Doing
She found the assignments interviewing locals valuable and enlightening. The work culminated in a joint project with the art students also on the trip, creating a 'zine to showcase their pieces.
It's familiar work. Castro-Astor wrote for the web version of The Beat last year, then served as reviews editor for the print version published last spring. And she interns covering the youth culture and Washington Square Park beats at the only print paper left in Manhattan's West Village, The Westview News.
She likes covering arts and culture but would like to get some experience in hard news and maybe investigative reporting. And she knows what beats she doesn't want to cover, politics and war. "It's too stressful."
The Right Fit
Castro-Astor was drawn to Purchase early in her college search (her brother Nick, who served as president of the PSGA, graduated in 2022). It was the only SUNY she applied to and was the favorite among all her options.
"It's a really good fit for me. I love how open the student body is. There are so many opportunities to make or create whatever you want really easily here," she says.
"And I love my professors here. I really love the journalism professors."
---
The Gilman International Scholarship Program broadens the U.S. student population that studies and interns abroad by providing scholarships to outstanding undergraduates who, due to financial constraints, might not otherwise participate.
---