Associate Professor of Journalism
Andrew Salomon worked for two decades as a daily journalist: as an assistant sports editor at The Washington Post, assistant arts and entertainment editor at Newsday, and as national news editor at Backstage magazine. He has reported extensively on labor strife in Hollywood and on Broadway, as well as on the intersection of technology and the arts. His current research involves the sportswriter Wendell Smith and his intersection with the career of Jackie Robinson.
More About Me
In 2017, he started the Richard & Marylee Salomon Fund for Journalists in honor of his parents. This fund contributes money to an early-career journalist from Purchase College for a significant work of nonfiction reportage.
GRANT RECIPIENTS
2018: Jessica Glenza, Class of 2011: for the creation of South of the South, a literary journal featuring journalism, poetry, and photography. It centers on a community of writers, photographers, artists, and politically independent people in Florida.
2020: Curt Brodner and Ellie Houghtaling, Class of 2019: to provide ongoing aid for their Twitter feed @nyc_protests. Brodner and Houghtaling started the feed in the wake of the uprisings following the murder of George Floyd. It continues, under new management, to provide news and information about the intersections of policing, housing, race, and poverty.
2021: Sophia Hadeshian, Class of 2020: to provide knowledge and tools of communication, as well as everyday needs, for women and children in Armenia, an embattled country in the Caucasus region between Europe and Asia. Sophia is a board member of Kooyrigs, a grassroots organization that assists women, children, and marginalized communities in Artsakh, Armenia, and Lebanon. She is also the creative director of Azad Archives, a news and information platform "committed to breaking the silence on the most important issues" facing the Armenian community.
Representative Courses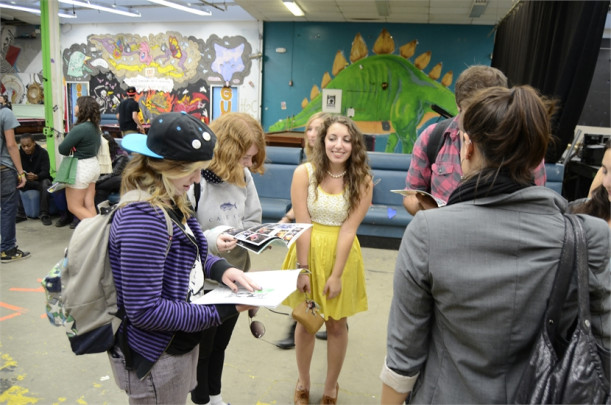 Christie Rotondo (Class of '13), center, at the launch party for Issue #1 of The Beat.
Publisher/Faculty Adviser, The Beat
Covering the Arts
Journalism I
Criticism & Reviewing Workshop
The History of Journalism
The Art of Sportswriting