ConnectiveCollective On View Through June 27 at the Neuberger Museum of Art
Interactive project leverages art as a form of civic engagement and a medium for critical discussion of societal issues.
In early 2020, as college campuses nationwide were forced into quiet by the pandemic, the idea developed for an ongoing and evolving art-based project that would inspire students at Purchase College, SUNY to raise their voices and take positive action on the issues that affected, inspired, or troubled them most. Entitled ConnectiveCollective, the project became a collaboration between the Neuberger Museum of Art; For Freedoms, the artist-led, nonpartisan collective whose mission is to promote civic engagement, civil discourse, and direct action through art; and the Purchase College Center for Engagement, an alliance of organizations whose projects inspire community engagement, encourage open dialogue, and impact social change.

As ConnectiveCollective evolved, its scope grew to encompass a student town hall, posters that covered the campus, artists talks, a panel discussion, as well as art installations and activations within the museum. Together, the campus and artists focused upon issues of political disenfranchisement, judicial equity, racism, debt, and food scarcity, exploring the various ways art can shape the world we live in through critical imagination and civic participation.

In an interactive exhibition on view now through June 27th at the Neuberger Museum of Art, works from ConnectiveCollective's first phases can be seen alongside objects from For Freedoms and its 2020 Awakening initiative; its reimagining of Norman Rockwell's depiction of American Freedoms, promoting a more "accurate representation of our everyday population now;" and works related to the artist collective Wide Awakes' Mobile Soup Kitchen that brings free hot meals, music, and joy to local communities. 

Visitors to the museum's gallery and social media accounts (@neubergermuseum: Facebook, Instagram) can join the discourse by adding their wishes for freedom, healing, justice, listening, and awakening.

"ConnectiveCollective is a call to action," said Neuberger Museum of Art director Tracy Fitzpatrick. "As a teaching museum, this project is an important step in our efforts to reexamine the ways in which community, artists, and museums interact."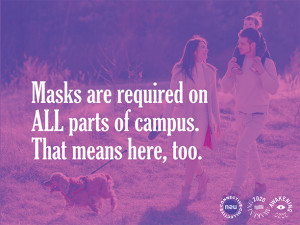 Catherine Fabrizio's design addresses the issue of students and off-campus visitors who choose to not wear masks in public areas, a widespread student concern discussed both in person and virtually on the student-only Facebook open forum page.The project kicked off in September with a Virtual Town Hall for Purchase College students. Seniors in the Purchase College School of Art+Design then created large-scale graphics reflecting the dialogue, now publicly viewable on the windows of multiple campus buildings.

A second Town Hall in March—co-organized by the Center for Engagement, the Purchase College Multicultural Center, and the Neuberger Museum—brought alumni from the Rehabilitation Through the Arts (RTA) program together with Purchase students for a discussion of the role that art can play for incarcerated people, and the possibilities art creates for healing and social justice.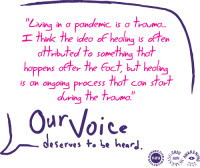 Samantha Cervini's quote bubble design, deconstructing the Purchase College logo, contains anonymized direct quotes from students who attended the Town Hall."The town halls are art works. The forum for discussion itself is a medium. And the spaces of museums are inherently civic spaces, which the town halls activate and highlight," explained Eric Gottesman, Assistant Professor of Photography and co-founder of For Freedoms. "Student participation is important to us not only because we want to reach everyone where they are but also because of the energy, optimism and big picture thinking students bring to our work."

Gottesman and For Freedoms co-founder Hank Willis Thomas have hosted panel discussions and lectures in collaboration with the Neuberger Museum, including a virtual Yaseen Lectures on the Fine Arts Artist Talk that included participants from across the country.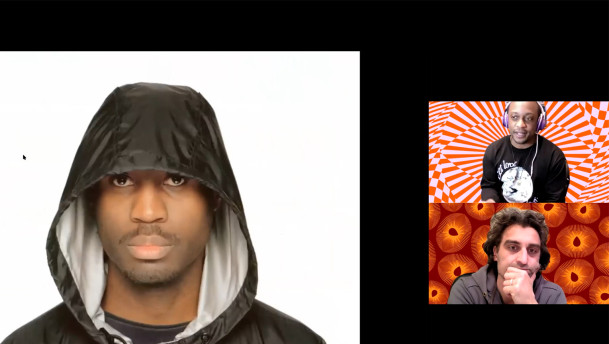 Artist Talk with Hank Willis Thomas - 2021 Yaseen Lectures on the Fine Arts
Students in a School of Art+Design For Freedoms class taught by Gottesman worked throughout the Spring 2021 semester to produce four collaborative projects around the idea of institutional critique. The projects brought the class together with Neuberger Director Tracy Fitzpatrick, museum staff, and others to explore the "complicated and sometimes colonial history of museums and the ways in which artists have engaged in institutional critique." Overall, the projects and show model ways in which For Freedoms and other artists can encourage civic participation through participatory aesthetic projects.

"We look forward to future collaborations with our partners," said Fitzpatrick.

The Neuberger Museum of Art is located at the heart of the Purchase College, SUNY campus, 735 Anderson Hill Road, Purchase, New York, 10577. The museum is currently open every Wednesday, Thursday, and Friday from noon to 5:00pm. Learn more about safety protocols and registering for a visit at www.neuberger.org/#visit.
Generous support for ConnectiveCollective is provided by For Freedoms and the Friends of the Neuberger Museum of Art. Museum staff involved with the project include Curator Jacqueline Shilkoff, Assistant Curator Avis Larson, Associate Curator of Education for Academic Programs Kristen Lindberg, and Curator of Education for Youth and Adult Programs Diana Puglisi.



ABOUT THE COLLABORATORS
---

The Neuberger Museum of Art opened on the campus of Purchase College, State University of New York, in 1974 with a core collection donated by Roy R. Neuberger, one of the greatest private collectors, philanthropists, and arts advocates of the twentieth century. Today, critically acclaimed exhibitions, tours, lectures, and interactive programs for patrons of all ages make the Neuberger a center of teaching and learning for all stages of life.

For Freedoms is an artists' collective founded in 2016 by Hank Willis Thomas, Michelle Woo, Wyatt Gallery, and Purchase's own Associate Professor of Art & Design Eric Gottesman to "confront urgent issues in contemporary life through an alliance of organizations and programs whose projects inspire community engagement and impact social change." The collective is inspired by Franklin Delano Roosevelt's notion of the four freedoms – freedom of speech, freedom to worship, freedom from want, and freedom from fear.
For Freedoms is one of the four founding organizations of the Purchase College Center for Engagement, a campus partner that moves ideas and dialogue to action, confronting urgent issues in contemporary life through an alliance of organizations and programs whose projects inspire community engagement and impact social change.
###