ON VIEW:  May 26 - June 27, 2021
What do you think of when you hear the word freedom? How about the words "healing" and "justice"? ConnectiveCollective is an evolving project – artists talks, projects, and workshops – looking at healing, justice, and the power of listening. 

Last year, the Neuberger Museum of Art and Purchase College Center for Engagement joined forces with For Freedoms, an artist-led organization that models and increases civic joy, discourse and direct action. Co-founded in 2016 by artists Hank Willis Thomas, Michelle Woo, Wyatt Gallery, and Purchase College faculty member Eric Gottesman, For Freedoms works in ever-evolving formats, intersecting art, politics and action. Entitled ConnectiveCollective, this collaboration has generated a series of events and interactive projects based on the ideals of For Freedoms, specifically for the Purchase College community.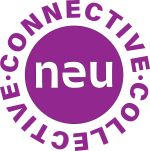 To kick off this initiative and expand engagement in our community through the arts, students led a Town Hall in the fall of 2020 addressing issues important to them. The School of Art + Design's Community Design class created graphics reflecting this dialogue, now publicly viewable around campus, and Gottesman's For Freedoms class is intervening in the show throughout the semester. Here in the gallery, visitors have the opportunity to enter into this exchange of ideas by adding their wishes for freedom to a growing collection of For Freedoms lawn signs, and to display their responses to the town hall concerns regarding political disenfranchisement, judicial equity, racism, debt and food scarcity. On view are two projects embodying these concepts: For Freedoms' reimagining of Norman Rockwell's depiction of American Freedoms, promoting a more "accurate representation of our everyday population now," and documentation of the Wide Awakes Mobil Soup Kitchen. This project will continue to develop throughout the Spring 2021 semester and beyond.

Generous support for this project is provided by For Freedoms and the Friends of the Neuberger Museum of Art.