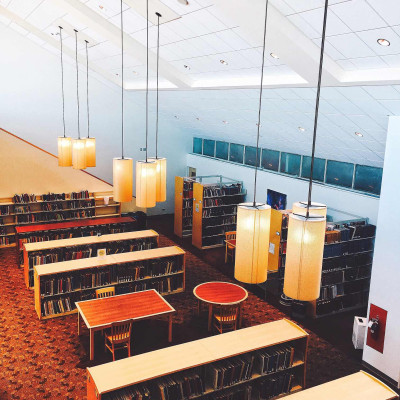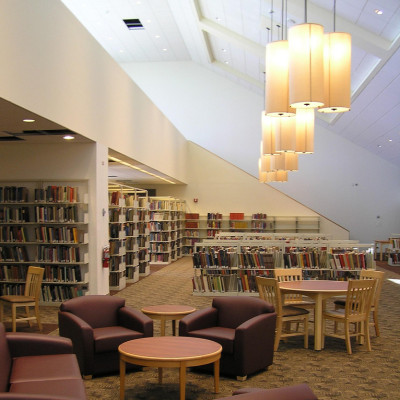 About the Collection
Purchase College Library's Art Book Collection, housed on the Library's second floor, holds over 260,000 books and journals about art, architecture, and design, with particular strength in 20th and 21st-century art and design. Other highlights include photography, early modern art, arts management and business, and a growing Latin American art collection.
The scope of the Collection includes primary and secondary materials to support the instructional programs and research needs of the faculty in the areas of painting, sculpture, drawing, graphic design, printmaking, photography, new media, art history, and arts management and entrepreneurship.

The Library's Art Book Collection  serves the Purchase College community, including the art history, new media, and arts management programs, the School of the Art+Design, both staff and patrons of the Neuberger Museum of Art, and visiting scholars, artists, and researchers from the community.
Locating a Title
The Art Book Collection is organized by Library of Congress Classification system. Call numbers included in the Art Book Collection are N, TR, TS, and TT. Subclasses include:
NA: Architecture
NB: Sculpture
NC: Drawing/Design/Illustration
ND: Painting
NE: Print media
NK: Decorative arts
NX: Arts in general
TR: Photography
TS: Manufactures
TT: Arts and Crafts 
Please see the Art Book Collection map. To find a title in the Collection, please use the Purchase College Library Discovery Search. You can search by title, author, subject, or keyword.  
Make a Recommendation
For more information or questions about the Art Book Collection, please email Kim Detterbeck, art librarian, at kimberly.detterbeck@purchase.edu. To suggest  a title for the Art Book Collection, please fill out the Library's recommendation form.