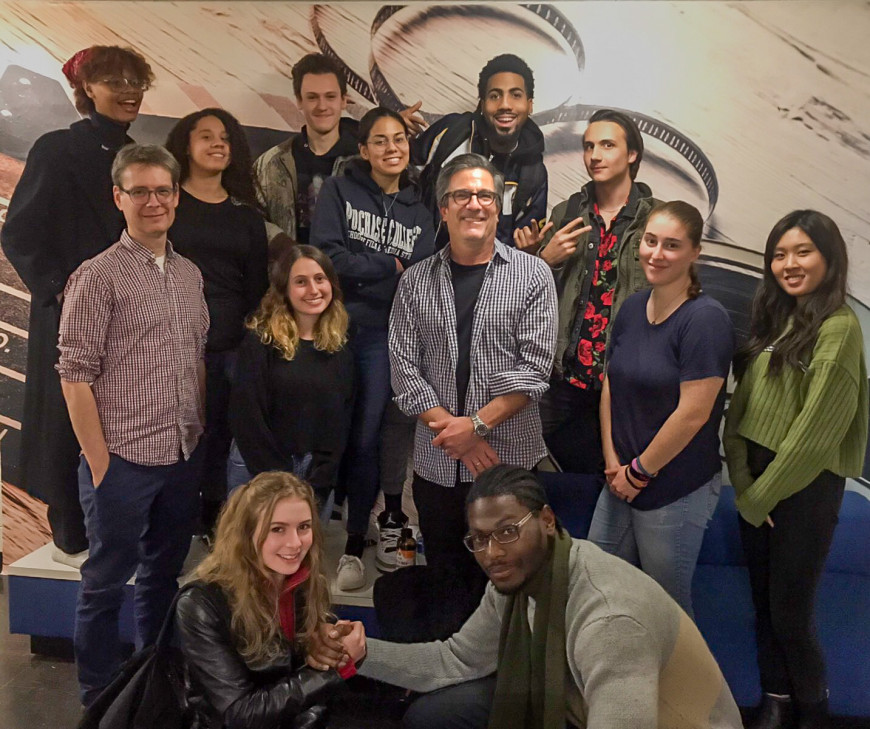 Michael Spiller '84 returns to campus to visit with film students.
Deadlines

Fall Application: January 1, 2022
Portfolio Submission January 15, 2022


Early Action: Not Available
Spring: Not Available
Portfolio
Applicants must submit the portfolio online through their admissions portal. There is a $30 portfolio submission fee. Applicants should upload media files as outlined below. 
The portfolio must consist of the following:
An essay (1.5 pages, typewritten and single-spaced) explaining your prior experience making art and why you wish to come to Purchase College, be admitted to the Film Conservatory, and why you want to make films.
Up to ten samples of any substantial artwork (films, videos, screenplays or other creative writing, photography, sculpture, painting, music, etc.) that shows a serious commitment to making art. (If you submit a film or video, please also submit a statement/resume describing your SPECIFIC role in the production of it.)
DO NOT mail a portfolio to the Office of Admissions. Portfolios sent to Admissions will be discarded and the application may be withdrawn from consideration.
Note: For the review committee, the essay and portfolio are a critical aspect of the initial screening process. Your best intellectual and creative effort should be demonstrated in both of these materials. Your essay might include a description of yourself, a discussion of why you want to make films, and include any experience you've had that supports or prompts your choice.
Because of time constraints in reviewing a large number of portfolios, it is best to send only your best work.
Invitational Interview
Interviews are by invitation only. Interviews are not automatically granted to Film Program applicants. Only qualified candidates will be invited to for an interview. Those students invited for an interview will be notified via e-mail. Invited candidates should bring additional portfolio materials (e.g. slides, scripts, films, artwork) that show their best work.
For additional information about the Film BFA program, visit the School of Film & Media Studies.