Science Entrepreneurship Award
Every year a student is chosen as the recipient of the Student Science Entrepreneurship Award. The student is judged as having the potential to make a scientific contribution to the business world.  The award is presented at the Westchester County Association's annual Health Tech Conference.
Student Award Winners Include:
2018: Haley Brown, Class of 2018, (Environmental Studies and Economics)
2016: Max Paulkner, Class of 2016 (Biology and Chemistry)
2015: Anna Palmer, Class of 2015 (Environmental Studies)
2014: Michael Kuepfert, Class of 2015 (Biochemistry)
In addition, To honor local scientists who are striving for excellence, Purchase College partners with the Westchester County Association to recognize a scientist who has made a significant contribution to science innovation in the region. The Purchase College Science Entrepreneurship Award is presented at the Westchester County Association's annual Health Tech Conference. At this conference, our student award winners will have an opportunity to meet with the local scientist winners who are leading professionals in the field. 
Criteria for the award include:
Scientific excellence
Business and science integration
Vision and innovation
Social responsibility
Positive role model for future generations
Award Winners Include:
2017: Dr. Judith Dunn, Roche Innovation Center
2016: Jack Dangermond, ESRI
2015: Dr. Frances Ross, IBM's Watson Center
2014: John Eldridge, Profectus             
2012: Judith Spitz, Verizon
2011: Dr. David Valenzuela and Dr. Andrew Murphy, Regeneron
2010: Dr. Andrew Blight, Acorda Therapeutics
---
Women in Tech Award
The Westchester County Association annually honors women innovators and visionaries who are improving our lives and moving our country forward, encouraging the next generation of mathematicians and scientists to strive for success.

Last October 2016, Esmeralda Michacas was honored at the Women in Tech Awards Luncheon. Esmeralda Machacas was the student research recipient of Con Edison funding of Purchase College's Science in the Modern World funding to Purchase College.

Esmeralda is a mathematics/computer science major at Purchase College. In addition to her academic excellence, Esmeralda is a teaching assistant in two classes. In this capacity, she generates original ideas about course assignments, and prepares for the professors' lectures by giving mini-lectures of her own. She produces consistently outstanding work, routinely initiates independent research on programming languages not covered in the classes, exhibits creativity in her projects, and is known throughout the major as being helpful to other students.
Stay tuned for more information about this year's winner.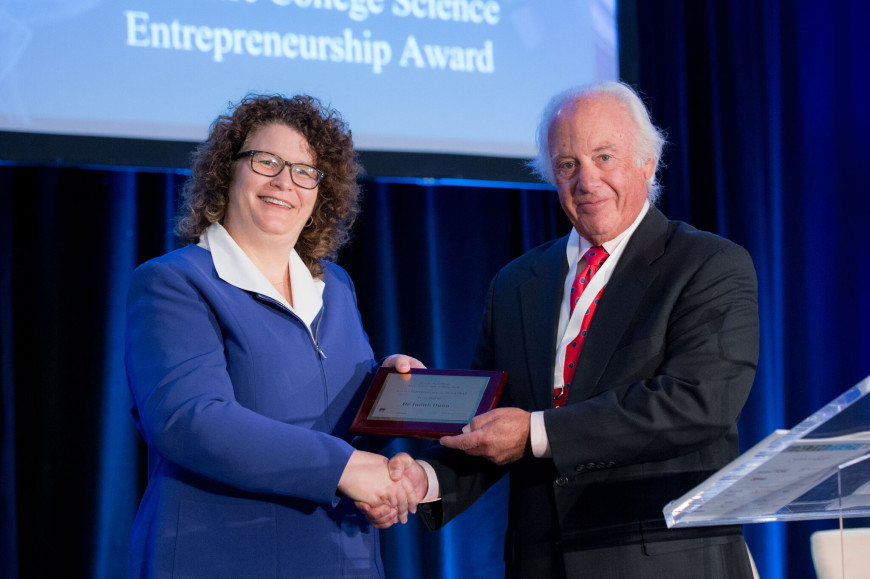 Judith Dunn accepts the 2017 Purchase College Science Entrepreneurship Award at the Health Tech Conference in Tarrytown, New York, presented by President Thomas Schwarz.