Welcome to the Bridges Program!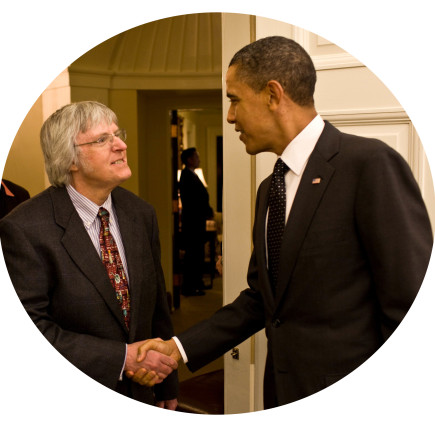 President Barack Obama and John Holdren, Director of the Office of Science and Technology Policy, welcomes winners of the Presidential Award of Excellence for Science, Mathematics and Engineering in the Oval Office, Jan. 27, 2011. (Official White House Photo by Pete Souza)The Purchase College Bridges to the Baccalaureate Program provides support to underrepresented minority students studying science. The program has received continuous federal funding, supplemented by private funding, since 2000. Each summer, students from Dutchess, Nassau, Orange County, Rockland, Sullivan County, or Westchester Community Colleges participate in an intensive summer research program at Purchase College, State University of New York. Students live in apartments on campus and receive a stipend.
Students participate in professional development workshops, receive individual advising and networking opportunities, and complete original science research under the supervision of a faculty member. Many program participants later transfer to Purchase College. These students have a strong connection to faculty in the natural sciences at Purchase College and to other students.
In 2011, Purchase College received the Presidential Award for Excellence in Science, Mathematics, and Engineering Mentoring in recognition of the success of this program.
Eligibility Requirements
U.S. citizen or permanent resident.
At least 18 years old and a high school graduate.
A student at one of the following community colleges: Dutchess, Nassau, Orange County, Rockland, Sullivan County, Ulster, or Westchester.
Enrolled in a degree program FULL-TIME (taking at least 12 credits) during the 2019-2020 academic year.
Must have a cumulative GPA of at least 2.8
Meet at least one of the following requirements:

Be a member of an underrepresented minority group (Hispanic, African American, Pacific Islander, Native American/Alaskan Native)
Have a disability (A physical or mental impairment that substantially limits one or more major life activities)
Come from a family with an annual income below established low-income thresholds (Note: Students applying based on financial need must submit a copy of their FAFSA along with the rest of the application.)
How to Apply
Students interested in applying should submit a completed application packet to their local community college coordinator.
A completed application packet consists of:
Paper application
500-word personal statement
One letter of recommendation
Copy of your transcript (unofficial okay)
Copy of your Student Aid Report (only if applying for program based on financial need)
For additional information, including the contact information for the coordinator at your community college, contact Julianna Campos, Coordinator of Science Student Support Services at Purchase College. 

Phone: 914-251-6648
Email: julianna.campos@purchase.edu