Purchase "Shark Tank" Awards $7,000 to Students' Startups
Grand prize winners hope to decrease global food waste and overuse of resources.
Last November, Purchase College partnered with GenFKD and took a page from reality television to launch their own Startup Pitching Competition, modeled on the popular ABC show Shark Tank.
This year's competition took place on December 5 and gave students the opportunity to pitch their business ideas to entrepreneurs and investors.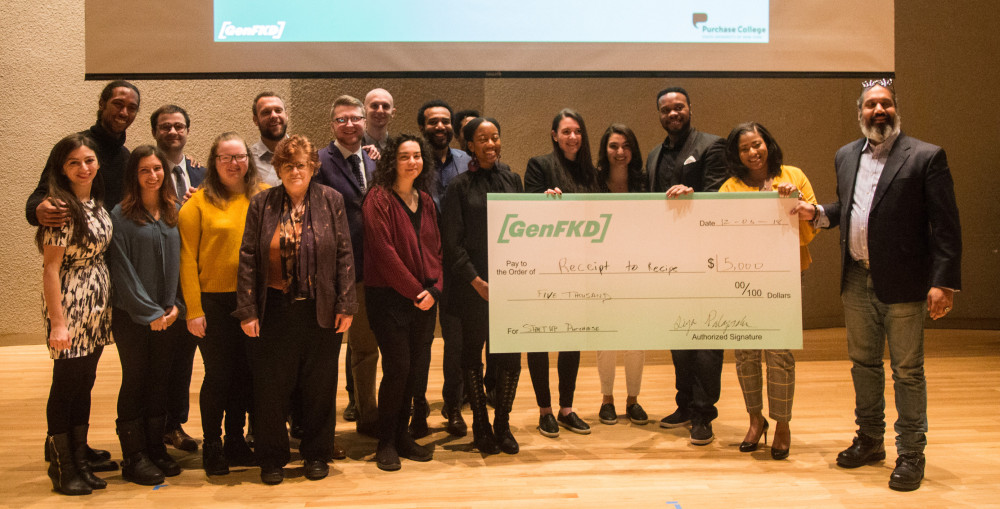 The judges and audience determined the winners who received a grant of up to $7,000 for their business pursuits.
The contest is part of the exciting, new Startup Purchase program, which was initiated and underwritten by the Dr. E. Lawrence Deckinger Family Foundation and its Executive Director, Nancy Deckinger and spearheaded by Assistant Professor of Economics Liya Palagashvili.
The contest is the culmination of a popular course entitled "Entrepreneurship and Finance: Turning Ideas into Startups," taught by  Professor Palagashvili and Vadim Revzin, an entrepreneur-in-residence with GenFKD. 
The Winners
This year's grand prize went to economics and arts management seniors Angela Galli and Kelly Hayes for their Receipt to Recipe pitch, which is a mobile application designed to decrease global food waste and overuse of resources.
The app will take a photo of a grocery store receipt and generate recipes from the internet based on the selected items and individual customer profile preferences. The project also won the audience vote. The duo was awarded $5,500 for their idea.
"We are so thankful to have been chosen as the first place winners of the second annual Purchase Shark Tank. We are beyond excited to proceed with our start up and are optimistic about our business's future" says Galli and Hayes.
Second place went to economics major Isaac Jones '21 and communications major Charles Jones '18 for their Shower Now pitch, which is a portable shower device that will redefine the shower experience for athletes, campers, the elderly, and individuals with disabilities. The project received $1,500.
"It's so incredible that our Purchase students can have this opportunity to take the entrepreneurship course and to have the resources, mentorship, and seed capital to bring their ideas into fruition," says Palagashvili.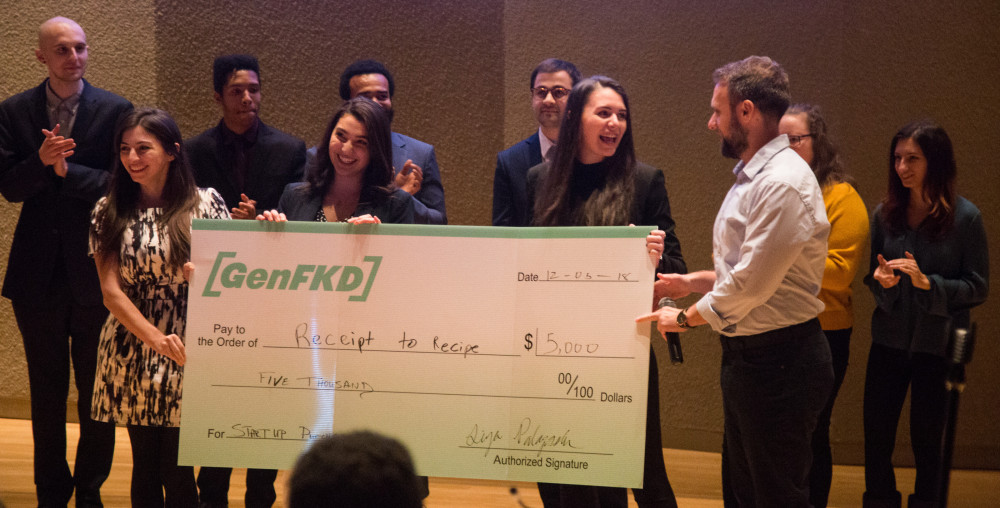 The Judges
The "sharks" were a diverse group of entrepreneurs who provided invaluable feedback after each student presentation. Among them were:
Micah Brown 

Founder and General Partner of Centiment Capital

Sarah Hill

CEO & Founder of Bobi NYC, Founder of Bookstr.com

Nick Ohnell

Philanthropist and Founder of Ohnell Capital (founder and former CEO of Communications Supply Corp)

Tola L.

Executive Director and Founder of Gyrl Wonder, Entrepreneur

Oz Sultan

Partner, Tareo Digital Fund and Sr. Fellow, National Minority Technology Council

Brittany Chambers

Entrepreneurship Research and Curriculum Director, GenFKD
Ms. Deckinger hopes her donations help start many new businesses. "I want to be a catalyst for students starting their professional lives," she says.
Read further online at Westchester County Business Journal.
Economics Start Up Purchase Pitching Competition 2018