To respond to the changing demands of communication professionals, we provide students with skills and knowledge in TV production, public relations, and advertising.
Although Purchase College has several majors related to media and communication, what sets this degree apart from others is that it helps students gain practical skills they can use in the creation and sale of television entertainment and corporate products and services, and provides an integrated approach to the study of content production, public relations, and advertising.
Past Student Internships
Arte Fuse Magazine
Inside Edition
NBC Universal
WRNN-TV
Warner Music Group
---
News:
The SUNY system-wide award recognizes student excellence.

Professor Keller will introduce the film at the Thursday, February 24, 7:30 pm showing at the Film Forum.

She'll present the paper at a conference in March.
Alumni Spotlight
---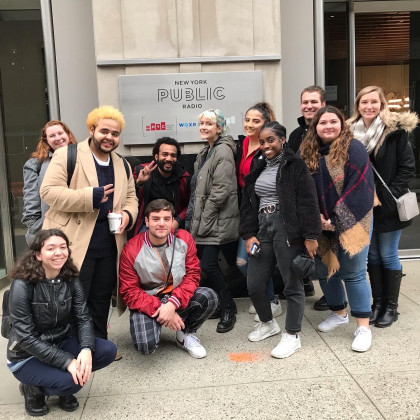 Podcasting class students visiting the New York Public Radio Studios