As we are nearing the start of the fall semester, we have reached that time period to think about housing for the fall 2022 semester.
We are excited that you have expressed to live on campus for the Fall 2022 semester.   As a reminder, any returning resident or new resident can receive a refund of their housing deposit if they inform Residential and Student Life prior to May 1, 2022 that they will be cancelling their housing assignment.  All request should be sent in writing to ceg@purchase.edu .   After May 1, 2022, all housing deposits are non-refundable. 
Returning residents must be enrolled for 8 or more credits by July 22, 2022 to maintain their housing assignment.  Failure to do will result in your housing assignment being removed.   Once the semester begins, residents must be enrolled as full time students (12 or more credits) in order to keep their housing assignment. 
Although our office would be happy to invite you all back for the fall semester, we understand that different situations may cause you to not return. If you will not be returning for the fall 2022 semester, please e-mail our office ASAP.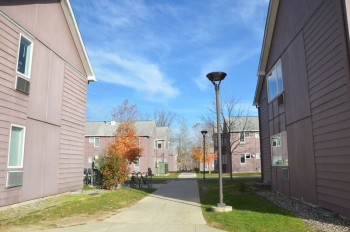 Friendly Reminders:
Any student that does not notify our office at ceg@purchase.edu  will be assumed as returning to campus housing for the fall 2022 semester and billed accordingly.
Please remember that if you are returning to housing for the fall 2022 semester, you must be registered for at least 8 credits by the date of July 22, 2022. You must be registered for full time status by August 29th, 2022. 
Students that are found to be on a double probationary (academic and disciplinary) status prior to the upcoming academic semester will be removed from housing. These students will also forfeit all housing fees including the housing deposit. Students can learn more about his policy by visiting the Housing Policies section of the website.
Students that are dismissed from Purchase College due to either academic or disciplinary reasons will forfeit all housing fees which includes the housing deposit.