Peer tutoring is a great way to enhance your academic skills, build your teaching skills, and add relevant experience to your resume.  Tutoring offers flexibility; we work around your schedule to set convenient hours. Both work study and non-work study students may be peer tutors. Tutors can also opt for an internship of 2, 3, or 4 credits instead. 
The Learning Center hires for the academic year, with the hiring process occurring in May. To apply for 2022-2023, resumes and faculty recommendations should be submitted to our Moodle space by May 6. 
 To be considered for a tutor position, students must meet the following criteria:
Minimum A- average in major coursework
Qualification to tutor in writing (A- or better in College Writing or equivalent course), as well as additional subjects related to major
Faculty recommendation in writing and any other additional tutoring subjects
Enthusiasm for helping others learn
Enjoy working with different types of people and different skill levels
To remain in the position, every semester, students are required to:
Maintain GPA and make satisfactory degree progress
Attend training sessions offered by the Learning Center
Demonstrate successful tutoring sessions
Demonstrate professionalism
Tutor Certification
The College Reading and Learning Association (CRLA) has awarded ITTPC program certification to Purchase College's Learning Center Tutor Training Program that qualifies us to certify tutors who complete the full training program as Level I Certified Tutors.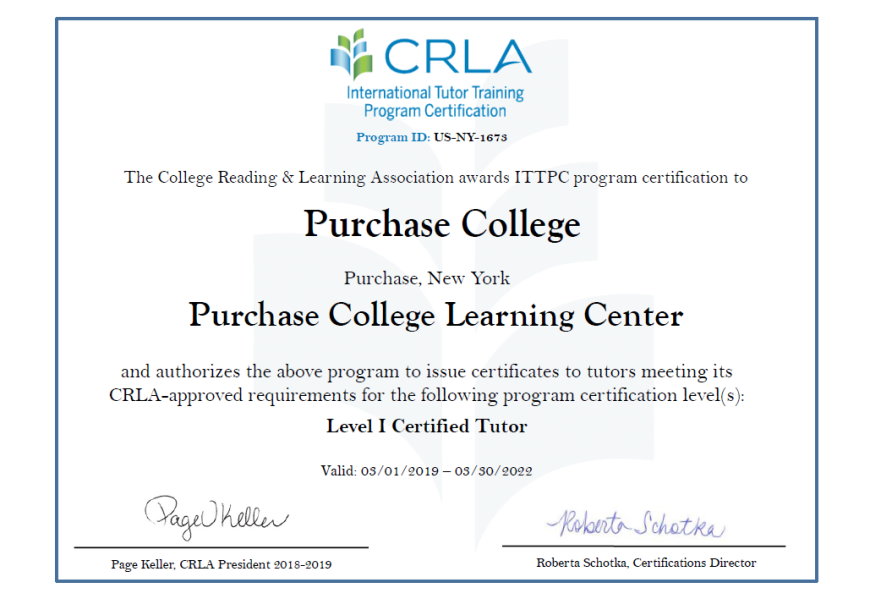 If you are interested in becoming a tutor, submit a resume, faculty recommendation, and cover letter to our Moodle space.