On Wednesday, November 29th Great Potential Program students from Albert Leonard Middle School, Isaac E. Young Middle School, Peekskill Middle School, and White Plains Middle School, attended "Middle School College for a Day" at SUNY Purchase College. Students from grades 6-8th participated in the day's events. Motivational speakers from the youth engagement company, CoolSpeak, fostered an environment of learning and self-exploration. Great Potential students  participated in exercises and workshops that related to the motivational speeches. See group photo with "CoolSpeakers" below: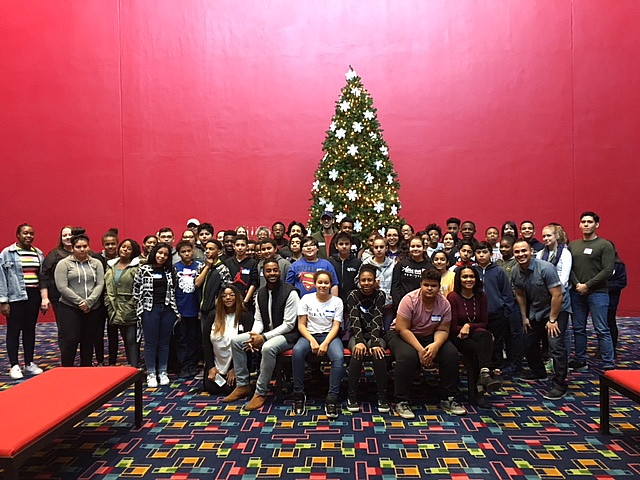 Over the summer, a small group of young ladies from Peekskill High School attended a Powherful Conference at Google in NYC.  This program event was started by Soledad O'Brien, a well -known journalist, anchor and a correspondent and her husband who founded the Powherful Foundation which was created to empower young women and girls across America.  The conference had career professionals as engaging panelists to discuss careers in the health industry; young women who work for Google discussing STEM fields; TV anchors and a radio personality discussing their trade, college representatives on preparing for college and internships, and financial corporations and businesses talking about the skills needed in their business. The conference also hosted a mentoring lunch with the visiting professionals to discuss internships, and landing your first job.  To help our young ladies prepare for the world of work, a Macy's representative hosted a student fashion show. Student volunteers were able to pick out and model for the audience the most appropriate attire for the workplace. Students were critiqued by the Macy's representative and the best outfits were voted for by the audience. The program closed with a conversation from American Idol's finalist Kimberly Locke.  Our young ladies came away extremely excited and empowered by so many wonderful professionals that shared their remarkable stories on how they found their blueprint for success!
Powherful Conference at Google
 In April 2017, six students from Nellie A. Thornton High School in Mount Vernon attended the 13th Annual Empire Promise Youth Summit at the Desmond Hotel and Conference Center in Albany, NY. Students had the opportunity to tour college campuses, attend motivational lectures, and participate in events like salsa dancing. The students, parents, and teachers pictured above had the opportunity to meet Matilda Cuomo, National Women's Hall of Fame inductee and mother to current NY Governor, Andrew Cuomo. Matilda Raffa Cuomo's life has been dedicated to service, as evidenced by her longstanding role as an advocate on behalf of women, children, and families. The 14th Annual Summit will take place April 26th-28th, 2018.