Inside the NEU: Henry Moore
Summary
This edition of Inside the NEU explores the life and work of British artist Henry Moore (30 July 1898 – 31 August 1986).  Best known for his semi-abstract monumental bronze sculptures, Moore's creations can be found as public works of art around the world.  One of the four casts of his Large Two Forms series is included in the Neuberger Museum of Art's collection; the sculpture is located at the entrance to the Purchase College campus.
Background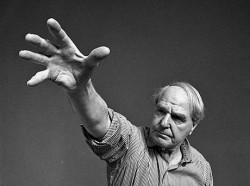 One of the most significant British artists of the twentieth century, Henry Moore was the son of a miner and the seventh of eight children. Though he showed an early talent for art, he trained to be a teacher before serving in the British Army during World War I. Thanks to an ex-serviceman's grant, following the war Moore was able to begin his formal study of art.
His earliest sculptures at the Leeds College of Art demonstrate Moore's interest in African art and early experimentation with carving. He then attended—and eventually taught at—the Royal College of Art in London where he met his future wife, Irina Radetsky, whom he married in 1929.
During the 1930s, Moore's reputation as an avant-garde artist began to grow. When war broke out again in 1939, he was recruited as an official war artist and produced his now famous drawings of people sheltering in the London Underground during the Blitz.
---
VIRTUAL FIELD TRIP:  Read Henry Moore's Arresting Vision of London in the Blitz


---
When their apartment was damaged by bombing in 1940, Henry and Irina moved to the countryside outside of London, settling in a friend's farmhouse in Perry Green, Hertfordshire that eventually became their forever home. Over the years they purchased surrounding property, Henry developed outbuildings into studios, and Irina created beautiful gardens.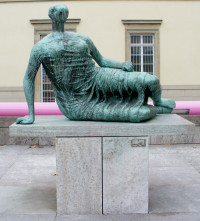 Moore's Draped Reclining Woman ("Die Liegende") (1957-1958) is typical of his early reclining figures.
Credit: Klaus Enslin, Stuttgart, Germany.  CC2.5Nature was important to Moore and his work is often associated with shapes that are reminiscent of the rolling hills near his childhood home.
But the reclining figure was Moore's signature form. Abstractions of the human body—most often female and sometimes depicting mother-and-child forms—were recurring motifs. His "mother-and-child" compositions were inspired by the birth of his daughter in 1946 and the passing of his mother two years earlier.
Moore's humanist language of family groups and reclining figures confirmed his status as a symbol of post-war optimism. 
As Britain began to rebuild after WWII, and his sculptures took on their increasingly larger scale, architects commissioned Moore to create works for public spaces again and again. Despite these lucrative commissions, the artist preferred his sculptures to be seen in natural landscapes.
I like sculpture in the open air. I prefer my sculpture to be seen with trees, and open sky, water, rather than with architecture. 
- Henry Moore
---
VIRTUAL FIELD TRIP:  Learn more about Moore's vision in this video.
Henry Talks, April 26, 2018 (10 min.)
---
Notably, Moore's large forms are generally pierced or contain hollow spaces. He would drive visitors around the grounds of Perry Green, encouraging them to observe the different views of his sculptures and how the forms continuously change with each other.
"That's what I think sculpture should be like to keep up its continued interest," he would explain.
Following a major retrospective at the Museum of Modern Art in New York in 1946 and winning the international prize at the Venice Biennale in 1948, Moore received increasingly significant sculpture commissions. From that point onward, his sculptures could be found in indoor and outdoor environments all over the world. This heightened success and fame provided the artist with the means to work increasingly in bronze rather than by direct carving, thus achieving the monumental scale that he had always desired.
---
VIRTUAL FIELD TRIP:  Watch this video to learn more about Moore's signature style and how his pieces evolve from small clay models to enormous cast bronze sculptures.
BBC Documentary, B & W, vintage 1951 (26.26 minutes)
---
A teaching career spanning 1925 to the early 1950s produced a generation of artists who were directly touched by Moore's example. Many of his assistants became established artists in their own right.
Despite this direct contact with, and support of, many contemporary artists, Moore's reputation amongst the younger generation suffered. He was widely considered an establishment artist, probably due to the prominence of his works in institutions and public spaces over the world. 
To a certain extent, Moore secured his own legacy with great acts of generosity, particularly through gifts to public collections.
Neuberger Museum of Art founding patron Roy R. Neuberger thought Moore was one of – if not the – greatest sculptors of this century. Neuberger and his wife, Marie, worked with the artist to secure the second cast of Moore's Large Two Forms sculpture for the Neuberger Museum of Art.
Though Neuberger was less than pleased with the sculpture's original placement on the campus mall, stating that it was too far from the Museum, students loved the location; alumni still fondly refer to the statue as a focal point of their memories on the new and still-developing campus.
SLIDESHOW: Henry Moore's "Large Two Forms" was originally installed on the Purchase College mall
In 1993, Large Two Forms was relocated to the campus entrance just off Anderson Hill Road where it has become an iconic symbol greeting students, faculty, staff, and visitors to Purchase College.
SLIDESHOW: Henry Moore "Large Two Forms" located at the campus entrance to Purchase College, SUNY
In addition to Large Two Forms at Purchase College, four of Moore's large works are on view in The Donald M. Kendall Sculpture Garden on the grounds of PepsiCo's Headquarters, and three in neighboring Sleepy Hollow, New York at the Kykuit Estate, home to four generations of the Rockefeller family.
Numerous examples of Moore's artistry can be found across New York City, including multiple works on paper and sculptures in the collections at MoMA and The Met, and the large Reclining Figure (1963-1965) commissioned for the Lincoln Center for the Performing Arts in Manhattan. Nearly 40 more objects can be found in New Haven, Connecticut at Yale University.
---
VIRTUAL FIELD TRIP: Where in the world are Henry Moore's works located?
---
In 1977, Moore established a foundation to encourage wider enjoyment and opportunities in the arts. The Foundation welcomes visitors to the artist's former home, studios, and sculpture garden on the Perry Green property in Hertfordshire.

At the time of his death in 1986, Henry Moore had created just over 1,000 sculptures, over 700 graphics, and almost 5,500 drawings. His art can be found in hundreds of galleries, museums and public spaces in nearly 40 countries. His creativity, productivity, and generosity left an incredible wealth of material to remember him by.