Ivan Forde is a contemporary artist based in New York City, working across photography, printmaking, collage, sound performance, and installation.
The artist performs for the camera often outdoors or in the studio, framing himself as protagonist, antagonist, and chimerical human/animal hybrids navigating the antique structures of epic poetry to redefine contemporary notions of migration(s), memory, homeland(s) and idenity(ies).
Forde's non-linear analysis of classic poetry about the origin of nature, the ocean, human culture, life and death, opens the possibility of reformed archetypes, alternative endings, and new beginnings.
By crafting new visual epics, often depicted in shades of blue cyanotype, Forde intertwines the personal and the global to offer a transformative view of prevailing narratives that unite us across cultures, geographies, and time.
Forde has held performances at The Kitchen, The Jewish Museum, and The Whitney Museum. Select Institutional Group Exhibitions include the Smithsonian National African American Museum Of History And Culture, Columbia University's Wallach Gallery, Syracuse University Palitz Gallery, MICA, MCA Chicago, The Studio Museum, and Ingrid Deusse Gallery in Antwerp.
Forde is the recipient of numerous awards and fellowships, including the Powerhouse Arts Inaugural AIR fellowship (2023), Whitney Independent Study Program (2022), the 2020 Emerging Artist Award by Baxter Street Camera Club of New York, the Civitella Ranieri visual arts fellowship (2019) and the Paul and Daisy Soros Fellowship for New Americans (2017). Residencies include the Lower East Side Printshop, YADDO, Pioneer Works, Vermont Studio Center, and ACRE Projects Chicago. 
Forde's work is represented in numerous collections, including Syracuse University Art Museum, The Studio Museum, The Escalate Collection at Chapman University, and the 7G Foundation.
---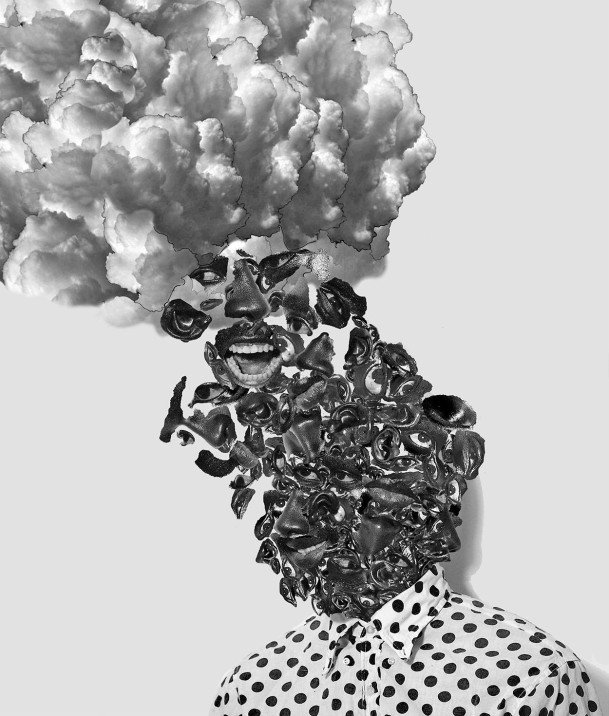 Ivan Forde '12, "The Fall of Man" from the Transformations series, 2012, Digital inkjet print collage, 22 x 17 in.
"The Fall of Man," a work from Forde's Transformation series of prints created as his senior project, was included in the Smithsonian National African American Museum Of History and Culture's exhibition Afrofuturism: A History of Black Futures on view March 2023–September 2024 in Washington D.C.
"Transformation 2012 is a series of eight monochrome prints that visualize the mental process unique to the reader of Milton's epic poem. I use multiple exposure and digital collage to merge, rearrange, and deconstruct my facial features, conjuring central narrative moments such as Milton's account of Satan's interstellar journey to Eden, the fall of man, and the turbulent process of the reader's mind."
---
A recent exhibition, The Radical Collage: Afrosurrealism and the Repurposed Fabrication of Black Bodies, was curated by Evan Andrew Davis, and featured works by Forde and Suné Woods at Syracuse University Art Museum's Palitz Gallery in New York City, February 3–April 9, 2020.
See a work commissioned by Columbia University Zuckerman Neuroscience Institute Education Laboratory on view through January 2021. The large silkscreen paintings were created with neuroscientists to generate deep images of the artist's body.
Awards / Residencies
2017: Paul and Daisy Soros Fellowship for New Americans, New York NY
2015: Shortlisted Finalist, Smithsonian Artist Research Fellowship, Washington DC
2014: Emergency Grant Recipient, Foundation for Contemporary Arts, New York NY
2012: First Place in Fine Art Collage, International Photography Awards, Lucie Foundation, Los Angeles CA
Exhibitions / Performances
2018: Dense Lightness: Ivan Forde, curated by Anna Harsanyi, Baxter St CCNY, New York, NY
2015: Space & Time, curated in collaboration with Amanda Hunt and Natalia Nakazawa, Newhouse Center for Contemporary Art, Staten Island, New York
2013: Disbodied, curated by Sam Barzilay, Dumbo Arts Festival & United Photo Industries, Brooklyn, New York