Using a wide variety of photo-based and print-making processes, Ivan Forde '12 retells stories from epic poetry casting himself as every character.
His non-linear interpretations of time-worn tales open the possibility of new archetypes and alternative endings.
Ivan's recent series of cyanotype-based works, Invocation (2018–2019), centers on the collective narratives passed down from the people of his Grandmother's village, Buxton—one of the first Afro-Guyanese settlements post-emancipation with a significant activist history that still endures today.
Illumination (2016-2018), based on the Epic of Gilgamesh, explores multiplicity and diversity using the body, specifically black bodies, as both material and subject navigating poetic terrain. Earlier bodies of work like Transformation (2012) about the 17th century allegory, Paradise Lost, edge closer to surrealist self-portraits showing the artist in various states of metamorphosis.
Ivan has been included in group exhibitions and performances at The Studio Museum in Harlem and the Whitney Museum of Art.
He earned an MFA at Columbia University in 2018.
---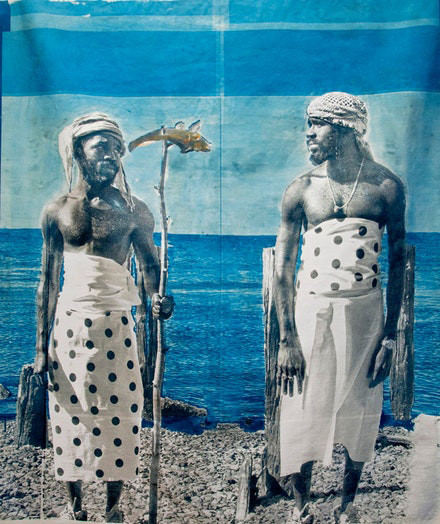 Ivan Forde '12, Fishing, 2017. Courtesy Baxter Street.
Read about his first solo exhibition, Dense Lightness, at New York City's Baxter Street on brooklynrail.org.
His most recent exhibition was The Radical Collage: Afrosurrealism and the Repurposed Fabrication of Black Bodies, curated by Evan Andrew Davis, featuring works by Forde and Suné Woods at Syracuse University Art Museum's Palitz Gallery in New York City, February 3–April 9, 2020.
See a work commissioned by Columbia University Zuckerman Neuroscience Institute Education Laboratory on view through January 2021. The large silkscreen paintings were created with neuroscientists to generate deep images of the artists body.
Awards / Residencies
2017: Paul and Daisy Soros Fellowship for New Americans, New York NY
2015: Shortlisted Finalist, Smithsonian Artist Research Fellowship, Washington DC
2014: Emergency Grant Recipient, Foundation for Contemporary Arts, New York NY
2012: First Place in Fine Art Collage, International Photography Awards, Lucie Foundation, Los Angeles CA
Exhibitions / Performances
2018: Dense Lightness: Ivan Forde, curated by Anna Harsanyi, Baxter St CCNY, New York, NY
2015: Space & Time, curated in collaboration with Amanda Hunt and Natalia Nakazawa, Newhouse Center for Contemporary Art, Staten Island, New York
2013: Disbodied, curated by Sam Barzilay, Dumbo Arts Festival & United Photo Industries, Brooklyn, New York