Tomashi Jackson: SLOW JAMZ
2022 Roy R. Neuberger Prize Award Exhibition

ON VIEW: April 13 – November 27, 2022

Light, color, sound, and texture are vehicles to explore issues of injustice and bring the power of art and policy to bear on historical engagement and critical action.

The 2022 Roy R. Neuberger Prize Award exhibition is a dynamic, immersive multimedia experience that will fill the Neuberger Museum of Art's South Gallery with floor-to-ceiling projections and soundtracks by internationally acclaimed painter, printmaker, and video artist Tomashi Jackson.

Jackson's practice investigates the relationships between the aesthetic and the political while conceptually interweaving Josef Albers-inspired color theory with human rights concerns. She utilizes light, color, sound, and texture as vehicles to explore issues of injustice and bring the power of art and policy to bear on historical engagement and critical action.

Tomashi Jackson: SLOW JAMZ is the artist's first solo exhibition to focus primarily on her video collages. Works from five projects are on view: Plain Cite Plain Site Plain Sight addresses the transformative poetics of informal domestic-labor economies of Black women in the built environment. The Subliminal is Now examines histories and contemporary implications of school-desegregation litigation and legislation in the United States. Interstate Love Song investigates histories and contemporary experiences of transportation-centered voting referenda and the maintenance of de facto segregation in and around Atlanta. Forever My Lady features the artist's alter ego Tommy Tonight and friends, exploring generational links and contradictions between participatory democracy and love with a focus on Los Angeles. The Land Claim explores intertwined living histories of Black, Indigenous Shinnecock, and Latin American people on the East End of Long Island, New York.   Nearly all the videos have soundtracks. One knit object and two photographs will also be on view. The show will be accompanied by an exhibition catalogue.

Tomashi Jackson: SLOW JAMZ is curated by Helaine Posner, Chief Curator Emerita, Neuberger Museum of Art. Generous support for the Roy R. Neuberger Prize and this exhibition has been provided by Jim Neuberger and Helen Stambler Neuberger.


---
Exhibition-Related Events 
Thursday, April 21, 5:00-7:30pm


October 12, 2022, 5:00-6:00pm
Free and open to the public.


Registration link coming soon
  About the Artist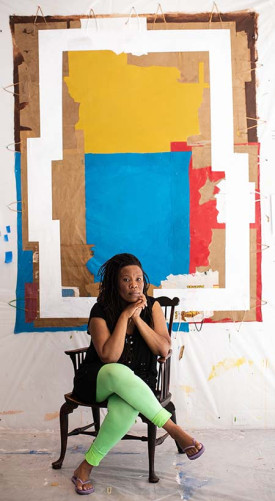 Tomashi Jackson was born in Houston, Texas in 1980, raised in Los Angeles, and currently lives and works in New York and Cambridge, Massachusetts. She received a BFA from The Cooper Union for the Advancement of Science and Art, New York; an MS from the MIT School of Architecture and Planning, Cambridge; and an MFA from the Yale School of Art, New Haven. She has been a Visiting Lecturer at Harvard University, Cambridge, and an Adjunct Professor at the Rhode Island School of Design, Providence and the Cooper Union School of Art, New York.

Her work was included in the 2019 Whitney Biennial and has been featured in solo exhibitions at the Radcliffe Institute for Advanced Study at Harvard University; Parrish Art Museum, Water Mill, New York; The Wexner Center for the Arts, Columbus; Night Gallery, Los Angeles; Tilton Gallery, New York City; Zuckerman Museum of Art, Kennesaw, Georgia and in group exhibitions at the Solomon R. Guggenheim Museum, New York; Moody Center for the Arts at Rice University; Los Angeles Museum of Contemporary Art; the Contemporary Arts Museum Houston; the Contemporary Art Center, New Orleans; and the Massachusetts Museum of Contemporary Art. Her work is included in the public collections of the Solomon R. Guggenheim Museum, the Whitney Museum of American Art, the Los Angeles Museum of Contemporary Art, the Baltimore Museum of Art, and the Studio Museum in Harlem. Jackson completed the Skowhegan summer residency and was a Resident Fellow at ARCAthens, Athens, Greece in 2019 and she has been the Inga Maren Otto artist in residence at the Watermill Center in 2021. She was awarded the Joan Mitchell Foundation Painters & Sculptors Grant in 2020.

Jackson is represented by Tilton Gallery in New York and Night Gallery in Los Angeles.


  About the Roy R. Neuberger Prize
Named for the Museum's founding patron, the biennial Roy R. Neuberger Prize honors Mr. Neuberger's lifelong commitment to support the work of living artists. Prize winners embody outstanding artistic achievement that inspires innovative thinking, fresh perspectives, and greater understanding and appreciation of the arts. An artist's creative achievements to date and their promise of future artistic achievements are also factors in the selection process.

The winner is selected from a long list of candidates nominated by the Roy R. Neuberger Prize Advisory Panel, consisting of the museum's director and curators, and various faculty at Purchase College, SUNY.

In addition to a $25,000 honorarium, winners have the opportunity to work with the Museum on a special exhibition and accompanying catalogue.

Previous recipients of the Roy R. Neuberger Prize include Cuban installation and performance artist Tania Bruguera, American figurative painter Dana Schutz, South African video and performance artist Robin Rhode, Argentine installation artist Leandro Erlich, and French Moroccan multidisciplinary artist Yto Barrada.