Nicolás de Jesús: A Mexican Artist for Global Justice
ON VIEW: September 7 - December 23, 2022
Explore the work and artistic career of contemporary Mexican artist Nicolás de Jesús.
This short video features works from the exhibition, moments from the opening reception, and interviews with the artist and curator.
---
Raised in a Nahua village in Guerrero, Mexico, de Jesús is well-known for his etchings on amate—a bark paper used in Pre-Columbian times to paint manuscripts—featuring ironical skeleton-characters celebrating, walking the streets, crossing borders, or fighting for justice. Picking up on the calavera tradition around the Day of the Dead celebrations held every November 1st and 2nd, these works enter the register of the political satire initiated by José Guadalupe Posada (1852–1913), a skillful etcher and caricaturist who portrayed with laughter and wit the abuses of the Porfirio regime and the Mexican aristocracy on the eve of the Mexican Revolution (1910–20).
de Jesús has also created an important number of bucolic large etchings inspired by life in his native community. His fine depiction of people joyfully dancing, eating, fishing, making music, or harvesting, recalls the work of the Renaissance master Breughel the Elder. While his art emerges from Mexican traditions, it is coupled with his international experiences in places like Paris, Jakarta, and Chicago, where he created some of his most emblematic etchings. de Jesús' empathy and dedication to address in his work questions of human rights, immigration, and environmental instability surpass the boundaries of his home country and draw attention to the pain and disorder experienced throughout the world.
The exhibition showcases some of the artist's most iconic graphic work and powerful political street banners alongside an astonishing series of recent, monumental, colorful paintings in which de Jesús addresses crises specific to the United States, including the storming of the US Capitol, the repression faced by migrants and African Americans, and the disasters of COVID 19. Covering three decades of the artist's career, this exhibition offers a challenge to the conventional definition of contemporary art.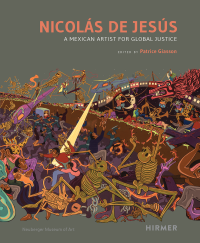 The exhibition is accompanied by an illustrated catalogue published in conjunction with HIRMER publishers.
Nicolás de Jesús: A Mexican Artist for Global Justice is curated by Patrice Giasson, the Alex Gordon Curator of Art of the Americas, with the assistance of curatorial intern Alexandra Hunter. The exhibition is organized by the Neuberger Museum of Art, Purchase College, SUNY, in collaboration with the Willowell Foundation. Funding has been provided by the Alex Gordon Foundation with the support of the Alex Gordon Estate.
Nicolás de Jesús, Gusto es vida, 2020
Acrylic on canvas, 64½ x 145½ inches
Collection Carlos Hernández Cruz, Casa Michoacana Gallery, San Miguel Allende
Photo by Marco Antonio Pacheco. © Nicolás de Jesús