backstory: Across the Arts
From the desk of the new Interim General Manager of The Performing Arts Center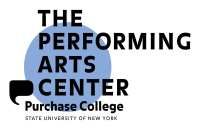 Tracy asked me to step into
backstory
today since last week I was appointed Interim General Manager of The Performing Arts Center. I'm really glad to be in this role after having served at The PAC as Education Manager for over 10 years, and then as Education and Community Engagement manager more recently.
Today, there are two things I'd like to share with you.
First, I want to thank you all for letting The PAC borrow Tracy for the last eight months. We, at The PAC, are enormously grateful for the leadership she's shown during that time. It's been great to work with her and learn from her, and I'm looking forward to our continued collaboration as she continues to advise The PAC in a consultant capacity.
Second, I'm excited at the prospect of continuing to find connections between the Neuberger and The PAC, as Tracy has been doing since she began her work with us. I think there are a lot of great collaborations on the horizon and I'm hoping you'll be a part of them.
Thanks again, Tracy. Looking forward to continuing to work together to spark creativity and bring great art of all kinds to the campus and the community.
Ian Driver
Interim General Manager
The Performing Arts Center
Purchase College, SUNY