The Story Behind "Color and Motion, Ideas and Dreams"
An Interview with Curator Patrice Giasson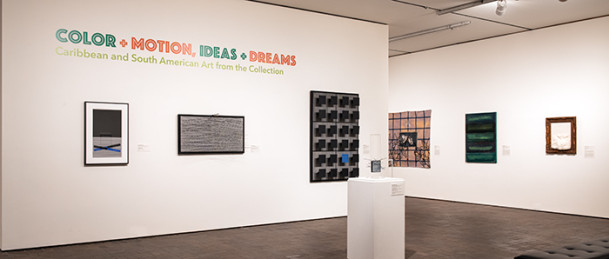 Color and Motion, Ideas and Dreams: Modern and Contemporary Caribbean and South American Art from the Collection is on view this Spring at the Neuberger Museum of Art.
Credit: © 2021 Lynda Shenkman / OxygenHouse photography. Neuberger Museum
I recently had the opportunity to ask Patrice Giasson, the Neuberger Museum's Alex Gordon Curator of Art of the Americas, a few questions about his work with Caribbean, Latin and South American artists and his latest exhibition, Color and Motion, Ideas and Dreams. On view at the NEU right now, the show features sculptures, paintings, photographs and prints by more than 20 artists that were all selected from the museum's permanent collection.

Eve: Patrice, what was your inspiration for Color and Motion?

Patrice: Latin American artists have been creating amazing works since the 1960s and up to today. They have been important actors in the contemporary art world, traveling to Europe and to the United States, engaging with artists from those countries, participating in the intellectual and artistic debates of their time, and developing their own art and manifestos. Many of these artists have created or expanded on art movements, including: Spatialism (Fontana), Optic and Kinetic Art (Cruz Diez and Soto), Arte Generativo (Mac Entyre), Arte Concreto (Mavignier and Catunda), Afro-Caribbean (Lam, Antonio, and Matinez Cañas), and Post-Surrealism (Matta and Bermudez), just to name a few.

But some people still tend to see Latin America as peripherical. Color and Motion, Ideas and Dreams demonstrates, through the creativeness and inventiveness visible in the work of Caribbean, Latin and South American artists, that this is not the case. On the other hand, while the context for contemporary art has been grandly evolving in Latin America—with new art fairs, new vanguard museums, and new curators—it is important to understand that several artists also live abroad, or in more than one country. This is the case of contemporary conceptual of artists like Florencio Gelabert, who was educated in Cuba and still has a studio there, but now lives and creates in the United States, or Carlos Garaicoa, who has two studios, one in Madrid and one in la Havana. Others were educated in the United States—like Chilean artist Eugenia Vargas who studied here in the 70s when the feminist movement was well established—which may explain why her series Urban Strategies recalls a work like S.O.S. Starification Object Series by Hannah Wilke.


Eve: The works by Latin American artists bring an obvious element of diversity to the museum's collection. What inspired your choices of objects to select for this show?

Patrice: I would like the public to see the variety of cultures existing in Latin America, which has for instance a powerful African legacy that can be seen in the work of the pioneer Wifredo Lam who ultimately influenced a generation of younger Cuban artists, like the photographer María Martínez-Cañas. We also have a wonderful new acquisition from the Haitian-born artist Engels the Artist, whose work dialogues with the spirit of recycling existing in Haiti as well as with Geometric Abstraction and Spatialism à la Lucio Fontana, making him an extremely rich and original artist.

I have also included, on purpose, the works of artists like Lucio Fontana and Alfred Jensen, with this idea of challenging the category of what "Latin American" means; Fontana was born in Argentina, where he launched his theories on Spatialism (in his White Manifesto) but then moved to Italy and was eventually defined as "an Italian artist." In the case of Jensen, he was born from German parents in Guatemala, and it is there, while being in contact with Mayan speaking people, that he discovers the power of colors and patterns, before moving to the United States where he is now "cataloged" as an America artist.
This all speaks to the complexity and richness of Latin American art and societies, and its diversity.


Eve: What are some of the key takeaways that you'd like visitors to remember or share with their friends as they talk about the works in the exhibition or our other collections-based show, Destination Latin America?

Along with what I've already mentioned … the works are really nice. We are very lucky to have such an amazing collection in the Museum that everyone can enjoy. In times of this pandemic, I would hope this exhibition to be a delight for both the eyes and the mind. This is why I decided the title "Color and Motion, Ideas and Dreams." Some of the objects in this show also appear in Destination: Latin America, a five-part exhibition that debuted in 2016 and takes a journey through the past hundred years of modern and contemporary Latin American art from the museum's collection. 
For students who are on campus this semester, Color and Motion, Ideas and Dreams can be seen during scheduled class tours or, beginning March 24, during the museum's open hours for students from noon to 5pm every Wednesday, Thursday, and Friday.

If you are remote-only this semester, you can watch these Art Out Loud videos of some of the objects that are in Color and Motion:
You can learn more about Destination: Latin America in these Inside the NEU videos and photo galleries.
For those of you who are wondering about Patrice's title, Alex Gordon was a native New Yorker who made his living selling lighting fixtures and designs but whose real passion was art. After his death in 2003 and according to his wishes, Gordon's family sold his collection of more than 1,000 artworks and used the funds to support art education. The family's large gift to Purchase and the Neuberger endowed the Alex Gordon Curator of Art of the Americas position. So, in addition to creating exhibitions and programs at the Neuberger, Patrice also teaches in the Art History Department at Purchase College. 
Eve Hlavatovic
Neuberger Museum of Art
Spring 2021 Communications Intern
NEU Student Voices Blogger