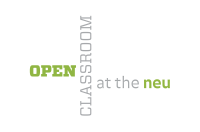 ON VIEW:  October 20, 2021 - December 24, 2021
Open Classroom projects align with course material of Purchase College classes while moving beyond the scope of the traditional classroom.
In Fall 2021, the Open Classroom space showcases collaborations with students and faculty from Art History's Museology (M+) and Art & Design's Contemplative Photography courses.
The Museology (M+) project consists of eleven works, each from Roy R. Neuberger's collection or purchased via his funding, that Museology students will research for provenance, exhibition, and literature history. Guidance throughout the project will be provided by Roy R. Neuberger Provenance Researcher Beth Silver.


The work in Contemplative Photography from the Collection was selected by Associate Professor of Photography Joshua Lutz, with the help of his current students, and is meant to "explore the nature of photography's capacity to look precisely and to view not just the object but also the act of looking itself."

These groupings encourage viewers to examine how belief systems inform what is seen, and to understand how and why the world is seen through the lens of one's own narrative.

Open Classroom projects are organized by Kristen Lindberg, Associate Curator of Education for Academic Programs. The Neuberger thanks Lecturer of Art History Leila Anne Harris and Associate Professor in Photography Joshua Lutz for their collaboration this semester.


---

The Spring 2022 Open Classroom will present an exhibition organized by Purchase College M+ students.

About M+
The Museum + Curatorial Studies (M+) track within the Art History MA program centers the Neuberger Museum of Art in a pedagogical model that systematically programs connections between Art History, the School of Art + Design, and the Neuberger. M+ students work with the Neuberger's collection, producing original research, exhibitions, and public programming. They do so with an eye to learning how an arts institution functions—training in skills that will prepare them for careers in the field—and also to rethinking the social role of the arts, tying the values of humanistic learning and critical thinking to the importance of engaged citizenship. In concert with Art History faculty and the Neuberger staff, every M+ cohort will imagine what it means to make a Museum Wide Open.