Courtney Harge, member advisor at Fractured Atlas, has joined Entrepreneurship in the Arts MA students for lectures on crowdfunding and fiscal sponsorship.
One of the many esteemed guest lecturers for Purchase College's Entrepreneurship in the Arts MA includes Courtney Harge, Member Advisor at Fractured Atlas. Fractured Atlas "empowers artists, arts organizations, and other cultural sector stakeholders by eliminating practical barriers to artistic expression, so as to foster a more agile and resilient cultural ecosystem." Harge has lectured on crowdfunding and fiscal sponsorship for Entrepreneurship in the Arts students, addressing how artists and creatives can avoid the common pitfall of incorporating as a nonprofit and take advantage of other, more innovative models.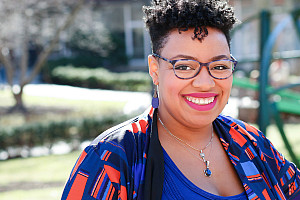 Courtney Harge is a producer, director, and professional arts administrator originally from Saginaw, MI. She is the Founder and Artistic Director of Colloquy Collective, a theater company based out of Bedford-Stuyvesant, Brooklyn. She has worked for the Elaine Kaufman Cultural Center, Theater for the New City, The Public Theater, Gibney Dance, and, most recently, the New York Foundation for the Arts with a focus on institutional fundraising, crowdfunding, and fiscal sponsorship. She holds a Masters of Professional Studies, with Distinction, in Arts and Cultural Management from Pratt Institute and a Bachelors of Fine Arts with Honors from the University of Michigan in Theater Performance. Her credo (#HustlingKeepsYouSexy) is not merely a hashtag; it's a way of life.