Blake Pfeil '19 Finds Solace and Beauty in Abandoned Spaces
All-American Ruins, a multimedia project, began as a way to escape the grim reality of the pandemic and avoid crowds flocking to public trails and parks for their dose of nature.
Faced with uncertainty and fear in the early days of the pandemic, Blake Pfeil MA '19 abandoned his plan to travel the country creating local educational experiences with his folk band Macabre Americana, and instead embraced abandoned buildings.
At first, he simply wanted to avoid crowds. But abandoned spaces had fascinated him since childhood. He remembered exploring as a child an abandoned dairy farm near his home in Colorado Springs, CO.
A road trip through the Rust Belt stirred him even more. As he traveled a stretch across Pennsylvania and West Virginia, passing one abandoned factory after another, he couldn't help but wonder what happened to these once-thriving factories and all the people who inhabited them.
Unintentional Results
He began visiting more of these locations all over the country, documenting what he found and storytelling through a series of blog posts, podcasts, and documentary films. He's now been to more than 50 locations.
"All I know is that I kept showing up to these abandoned spaces during my free time, and the project revealed itself more and more. I'm sure that some of my time at Purchase had something to do with it." 
The result is a multimedia travelogue, "All-American Ruins," which features photos, essays, poetry, and a little fantasy about how these places came to exist in their current states.
A self-described artist, activist, adventurer, and loudmouth, Pfeil unavoidably intertwines broader questions about economic, social, and political themes, such as American history and culture, community, capitalism, the environment, and mental health. He asks followers "to activate their imaginations as a tool for healing.​"
---
You can read the posts or listen to the podcast, and with a subscription to the HUDSY app, watch the documentary series.
---
Searching For Something New
Pfeil came to Purchase in 2017 feeling "creatively fatigued." In hopes of finding a new approach to his creative practice, he enrolled in the Entrepreneurship in the Arts MA program to concentrate his effort.
"I wanted to figure something else out because the 'starving artist' trope wasn't cutting it," he writes. "The Entrepreneurship in the Arts MA program at Purchase felt like an opportunity to explore how I could potentially lend my multidisciplinary endeavors to a far more sustainable way of living."
Already a multimedia artist, his credits include original theatre work, a debut solo folk/pop album, regional theatre acting gigs, a radio show, and the new project cofounding the NYC-based folk-fusion band Macabre Americana.
It's All Storytelling
While it's blossomed into a huge endeavor, All-American Ruins was never intentional.
"All-American Ruins was never supposed to be a pivot. Or a project. Or anything with intention. It slowly evolved into that of its own volition, and for that, I am very, very grateful because it's the first time in my life that all of my artistic capacities have been able to exist neatly in one space."
And it doesn't stray from his creative purpose for Macabre Americana.
"Macabre Americana formed out of a desire to tell stories left out of the American history canon through theatre and song, and in that same light, All-American Ruins has a similar vibe," he explains. "I'm obsessed with the dark side of American folklore and culture, and both projects are definitely ways to explore that obsession."
Pfeil has found healing in the abandoned ruins he's come to revere and invites followers to do the same.
"I've become connected to something bigger than myself because if I listen hard enough, the crumbling walls talk to me about mortality and how it's nothing to be afraid of. The ghosts who wander through these spaces…have saved my life, he says in his podcast.
"With the world feeling like it's burning down all around us, I've claimed sanctuary in these spaces of the past and reconfigured them in my mind as sacred holy spaces."
What's Next
He'd like to adapt the blog into a collection of essays for publishing and pitch the podcast and the series to networks.
In the meantime, he invites you to pause and consider these forgotten spaces. "They serve as sobering reminders…life is precious, short, and can disappear in the blink of an eye with one solvent breath."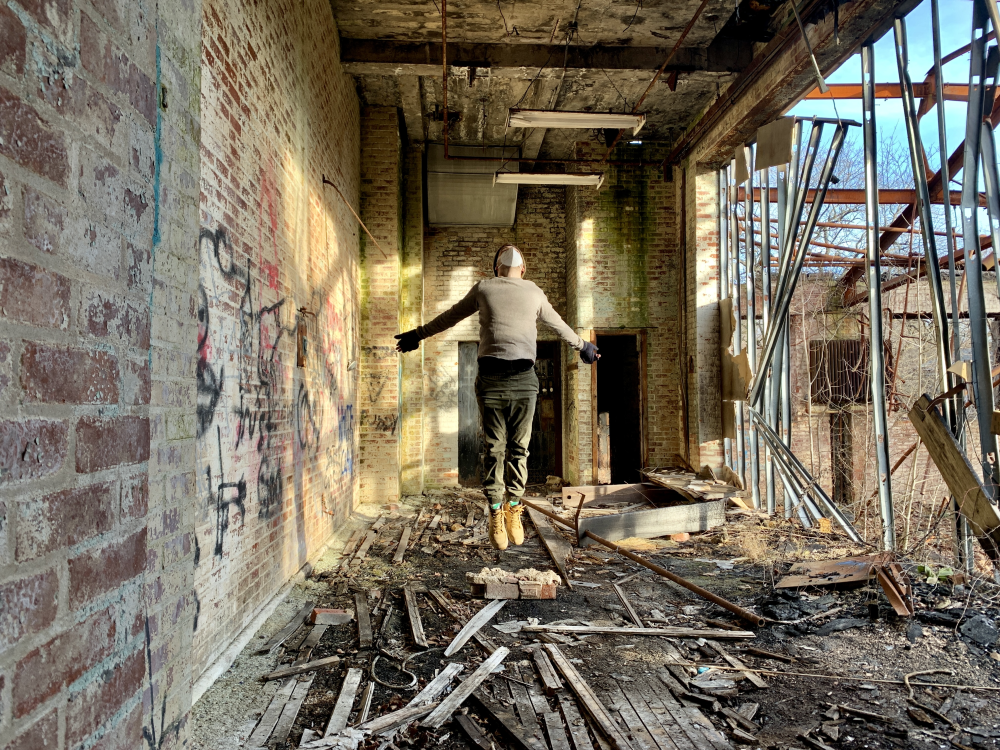 ---
Pfeil has created original theatrical work featured at Joe's Pub, 54 Below, Rockwood Music Hall, Highline Ballroom, NY Live Arts, Kasteel Well (The Netherlands), Icaro Teatro (Mexico), Gyeonggi English Village (South Korea), among others.
He acted at the Shakespeare Theatre of NJ, Huntington Theatre Co., New Repertory Theatre, and Company One, among others.
He created the Joni Mitchell-inspired THE BBC, 1970 (originally commissioned by 54 Below), released Wallpaper, his debut album of folk/pop music, and cofounded the NYC-based folk-fusion band Macabre Americana.
He hosts The Pfeil File on Radio Kingston/WKNY (107.9FM/1490AM) and currently serves as Operations & Programs Manager at Hudson Valley-based nonprofit storytelling organization TMI Project.