Yuchen Zhang, fashion tech designer, entrepreneur, and CEO of Wearable Media, spoke to  students about balancing profit and product with artistic vision, innovation, and social commentary.
The New Museum, Manhattan's only dedicated contemporary art museum, operates the first ever museum-led incubator. NEW INC is a coworking space designed to encourage collaboration and spark new ideas from the synthesis of different disciplines.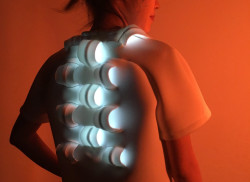 NEW INC hosted Entrepreneurship in the Arts students at its location in Manhattan for a discussion on the blending of art and technology, new business models for creative entrepreneurs, and the importance of building networks. 

One of NEW INC's members, Yuchen Zhang, joined the students to share her pitch for Wearable Media, a for-profit company that incorporates technology with fashion in meaningful ways. Wearable Media works with data sets, social media APIs, Augmented Reality, and sensors to elevate fashion products as an interactive media. The students were able to hear firsthand about Zhang's experiences and challenges as a creative entrepreneur who is attempting to both financially sustain herself and see her artistic visions come to life.