This program allows students to work on a part-time basis to earn money to pay for indirect costs. Funding is extremely limited. Students must be eligible for need-based financial aid and have their application submitted in a timely manner to be considered for Federal Work-Study. Please note that due to the mandatory spending cuts by the federal government through sequestration, Federal Work-Study funds may be reduced and/or cancelled. If a revision is made to your award, we will send a new award notice.  
Earnings are not paid to the student's bill, but received in a paycheck/direct deposit to your bank account. If you are awarded and accept a Federal Work-Study position, you will work an allotted amount of hours per week at an on-campus job. You will be paid every two weeks.
New Policy and Procedures will take into effect Fall 2019
Please follow the instructions to be hired.  
All requirements must be met before any employment on campus begins.  
Click on these instruction for Work Study Online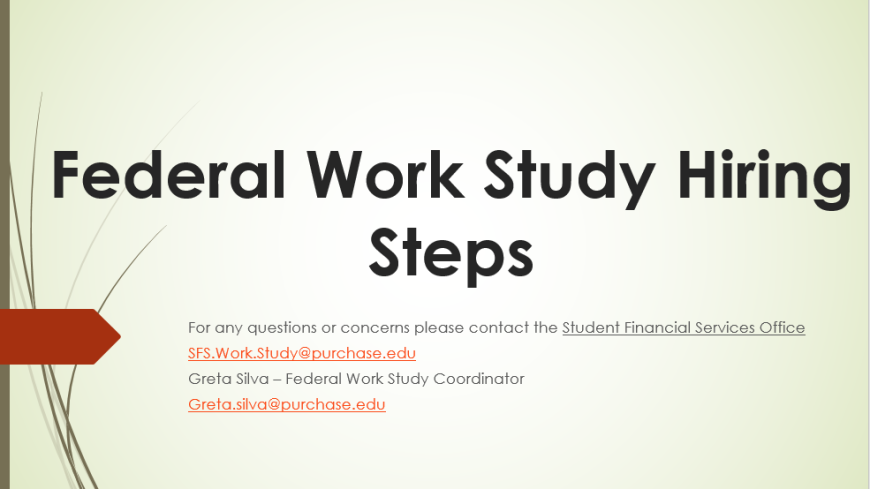 Instructions:
Accept or Decline your award
Hand in all the Required Hire Forms to Student Financial Services Office
Apply-  Job postings can be found on JobScore
Wait for a Supervisor to offer you a position.

A Hire Form will need to be submitted to our office. This form must be signed electronically from your Direct Supervisor.  

To initiate the Hire form process; your Direct Supervisor MUST Email our office

Allow 4-5 Business Days for Student's to be assigned a SUNY ID (Required for Access to Timesheets)

Click on the SUNY Timesheets Tab to submit Timesheets 
Supervisors:
Please contact our office to inquiry Hiring a Student Worker

Supervisor MUST submit a request for all potential Hires before the student begins working

Both Supervisor and Student MUST sign Hire Form to be assigned a SUNY ID

Accepted

= Hire Form has been satisfied

Approved

= Pending Student Signature 

If a Student Has Work Study that does not guarantee then can be placed on Purchase Payroll (Job Placement is on a First come first serve basis and must be approved by our office) 
F.A.Q
How do I submit timesheets?
Timesheets may be submitted by clicking on the SUNY Time Sheets link in the menu. This link will only be available once your account is active. Please see instructions on how to login to the SUNY Portal.
I do not see the SUNY Timesheets link. What do I do?
The SUNY Timesheets link will only be available once your account is active. This can take a few days/weeks. Please contact the SFS Work Study coordinator for more details.
How to login to the SUNY Timesheets?
For the first time you login to the SUNY, you will need your SUNY ID.   Subsequent logins will prompt you for your myHeliotrope login details.
Where to find my SUNY ID?
Once your account is active, your SUNY ID can be found on any of your applications. Click on the View Application button on any of your applications on the Home Page.
Please note that this field will remain blank until your account is active. *(After Hire Forms have been signed by both Student and Supervisor it takes 4-5 business for SUNY ID's to become available)
Where can I find my electronic Hire Form?
Completed Hire Forms can be found in the Work Study Online Application.  Hire Forms Pending Signature(s) will be sent via email to both Students and Supervisors. 
Can students work on campus without having Work Study?
Because work study is very limited, all students can apply for positions under Student Assistant.  We encourage all students to apply through JobScore
Students who wish to be added to the Work Study Waitlist are encouraged to email our office.  
For further questions/concerns please email our office- SFS.work.study@purchase.edu