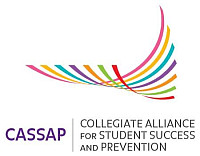 Welcome to the Collegiate Alliance for Student Success and Prevention (CASSAP), a resource of the Purchase College Wellness Center.
A resource operating within the Harbor Center, The Collegiate Alliance for Student Success and Prevention (CASSAP) works together with our campus community to prevent substance misuse and the negative outcomes of alcohol, tobacco and other drug use at Purchase College and the surrounding community.
CASSAP aims to improve student success and engagement in the college experience. CASSAP is made possible through the Environmental Prevention on College Campuses grant from the Office of Addiction Services and Supports (OASAS).
Clearly Genius
Clearly Genius is our social norms campaign that demonstrates that our Purchase Students create inspiring works without the use of substances. Each month, students can submit art in any medium to the contest for a chance to win a $50 Starbucks Gift Card. For an application, email clearlygenius@purchase.edu. 
Our Goals
Assess the community for substance misuse and related outcomes.
Implement needs-based, data-driven initiatives to improve the health of the community at large. 
Provide quality training for providers, faculty, staff, other regional colleges and community members
Assist the Harbor Center to provide health education and educational programming for students and their families.
Develop meaningful collaborations to increase student success and wellness.
Who Should Join the Coalition?
Professionals in the collegiate community
Parents
Interested community members
Business owners
Faith communities
Health and Mental Health professionals
Students
Substance use prevention and treatment providers
News:
COVID and Substance Use

As students begin to settle into their new normal, emerging evidence shows there are risks to students using substances. Research suggests people who use cigarettes, vape and combustible marijuana are at increased risk of respiratory distress with COVID. Additionally, there are risks with edible marijuana, opioids, alcohol and other drugs.

For more information, read the

National Institute on Drug Abuse (NIDA) article

.

Please see CASSAP and Wellness' social media for tips on how to stay healthy! @CASSAPny @wellnessatpc