Pre-Freshman Summer Program
Congratulations on your admission to EOP/MAP at Purchase College!  We are looking forward to working with you.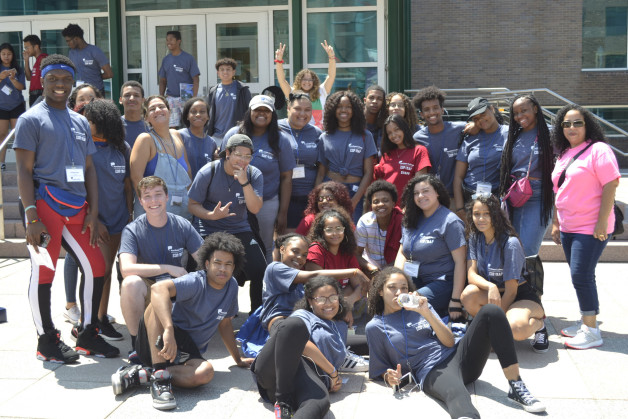 EOP/MAP provides this mandatory supplemental program in order to orient you to different aspects of the college including services on campus that are important to your success.  We have planned workshops and activities which will help you to become familiar with college life.  In addition, we will provide you with academic/financial aid advising.  It is important to come prepared with a positive attitude and an eagerness to learn.
Our goal is to have this Pre-Freshman Summer Program equip you with the informational foundation that will help ensure your success.  Great care has gone into planning this summer experience.  The critical element in achieving academic success at Purchase is the time and effort you apply toward your college experience.  EOP/MAP provides you with information and support but success ultimately is up to you.
This program runs concurrently with the on campus Orientation. EOP/ MAP Students will be automatically registered for both.  
This Summer Program is your beginning. Make it a good one!
---
Open Letter to new EOP Freshman: 
Dear Purchase College EOP student,
On behalf of the EOP staff and myself, welcome to EOP at Purchase! We are so excited to help you succeed in the coming years.
I am writing to provide some helpful insight and important information as you prepare to begin your college career with the EOP summer program. This letter may be lengthy but do read it in its entirety as you need to know everything that I will outline.
Review the details of this webpage below about EOP summer, it contains the dates, structure, program rules and regulations, etc.
Brand new, laptop computers are available to all EOP freshmen who need this technology for the summer program and their first year of college. These are on a loan basis and you will return them after your first year of college. Please let your EOP counselor or me know if you want a laptop as soon as possible.
During the summer, Purchase College EOP will credit your bank account $300 to help with food expenses and travel to campus for the summer program's Saturday visit. You will need to connect your account for eRefunds, the college's method for issuing financial aid refunds. You can find instructions here:
https://www.purchase.edu/offices/student-financial-services/student-accounts-billing/erefunds/
I'm sure you noticed on your acceptance letter to the college that successful completion of the EOP summer program is a condition of your acceptance. Simply put, you cannot attend Purchase without attending and satisfactorily completing the EOP Summer program. I can promise you that you will succeed in passing the summer. If you are present and engaged, every support system we have will be at your disposal. Attendance at all classes, workshops and activities is required so make your work plans, vacation plans, etc. with this in mind.
EOP provides the mandatory, 3-week, EOP Summer program in order to orient you to different aspects of the college including services on campus that are important to your success as well as bolster your academic preparation for college. We have planned reading and writing classes taught by Purchase faculty, workshops and activities which will help you to become familiar with college life. In addition, we will provide you with academic/financial aid advising.
Keep an eye on your Purchase email, we will be sending the summer schedule and a zoom link to our opening meeting soon which takes place Monday, July 5th!
As always, feel free to ask questions if any of this information need clarification.
We are looking forward to seeing you!
Sincerely,
Paul Nicholson
Director of Special Programs
Both the EOP and MAP programs happen concurrently with the college's live orientation. The duration of each summer program is below:
MAP: Tuesday, July 20th (Immediately following the college's in-person Orientation) - Friday, July 23rd (Virtual: Weds. 7/21, Thurs. 7/22, & Friday 7/23)
EOP: Monday, July 5th - Friday, July 23rd, 2021 (Virtual + On Campus Dates: July 20th & Saturday, July 10th or July 17)
DUE TO COVID-19, ACTIVITIES WILL BE PARTIALLY REMOTE. THE EOP OFFICE WILL CONTACT ALL ENROLLED STUDENTS WITH INSTRUCTIONS AND DETAILED INFORMATION VIA THEIR PURCHASE EMAIL REGULARLY.
As a freshman admitted to Purchase College through the Educational Opportunity Program (EOP) or Merit Access Program (MAP), you will be participating in a rewarding experience. The online summer program will provide a head start on your college career by becoming familiar with the campus, its community, students and staff.
The EOP/MAP Summer Program is mandatory for all first year students. All EOP/MAP students will be assigned a Peer Mentor and a professional counselor/ advisor. There will be scheduled group and individual meetings with topics related to college success.
Students are expected to attend all day, multi-session virtual programming and events. You MUST let us know in advance if you do not have reliable internet access in your home. All students with any disability who may need special accommodations must notify the EOP/ MAP Office before June 15th via email- EOP@purchase.edu
Students admitted to EOP/MAP must attend this summer program in addition to the college's orientation session in July and the "Phase T.W.O. Orientation" program.
EOP Opening Check-In Meeting - Monday, July 5th at 10:00 AM
Zoom Link will be emailed directly to EOP Students a week prior to the Opening Meeting.
MAP Opening Check-In Meeting - Tuesday, July 20th - On campus (following in- person orientation)
Zoom Link for 7/21, 7/22, & 7/23 Virtual Program will be emailed directly to MAP Students a week prior to the On campus Opening Meeting.
Each Summer Program participant is assigned a Peer Mentor. This student peer will work with you to make your experience a positive one. Their role is to:
Develop and monitor social interaction and extracurricular activities.
Provide feedback to the EOP/MAP staff regarding student progress and needs.
Review any persisting problems with the director.
Provide feedback and assistance to students.
Build and encourage group cohesiveness for student/program success.
Represent the Purchase community and orient the 1st year student to resources and opportunities.
Continue supervised peer mentorship in the Fall Semester as an intern.
Participation in any of the following activities may result in immediate expulsion from the summer program, campus judicial action and revocation of your admission to the college.
Any disruptive, violent or dangerous behavior directed at oneself, another person, or college property/materials.
Use and/or possession of any controlled substance, including alcohol and marijuana (cannabis).
Violation of program and/or campus policies.
Program Policies, Procedures and Rules
The EOP/MAP summer program is designed to introduce you to the college environment and to help maximize your potential for academic and personal growth while at Purchase College. In order to fulfill the objectives of the Summer Program, the following regulations must be observed:
Attendance: Workshops and Other Scheduled Activities: You are required to attend all workshops, classes, and program meetings. The only excused absences are for personal illness (you must notify your assigned EOP/ MAP counselor of illness to be cleared to miss workshops or program meetings). Program staff will monitor attendance. (An important part of succeeding in college). Plan to arrive 5 minutes prior to the beginning of class/scheduled activities.
Zoom Decorum: It is unacceptable for students to engage in any form of disruptive behavior. Students should be alert, attentive, and respectful of their workshop leaders, classmates and themselves. Hats and sunglasses are prohibited in the classroom. Video must be "ON" for all sessions.
In addition to the above policies, all students are required to follow the college's code of conduct.