Pre-Freshman Summer Program
Congratulations on your admission to EOP/MAP at Purchase College!  We are looking forward to working with you.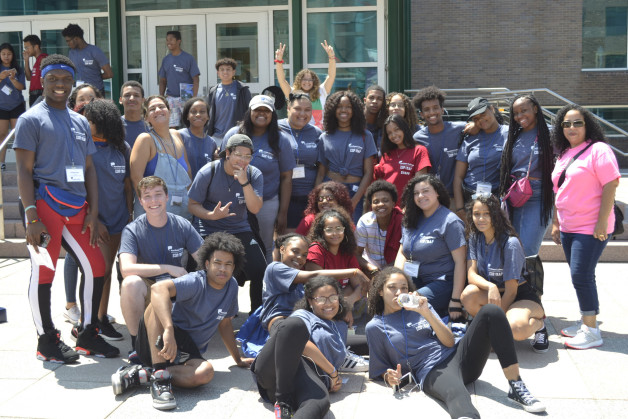 EOP/MAP provides this mandatory supplemental program in order to orient you to different aspects of the college including services on campus that are important to your success.  We have planned workshops and activities which will help you to become familiar with college life.  In addition, we will provide you with academic/financial aid advising.  It is important to come prepared with a positive attitude and an eagerness to learn.
Our goal is to have this Pre-Freshman Summer Program equip you with the informational foundation that will help ensure your success.  Great care has gone into planning this summer experience.  The critical element in achieving academic success at Purchase is the time and effort you apply toward your college experience.  EOP/MAP provides you with information and support but success ultimately is up to you.
This program runs concurrently with the on campus Orientation. EOP/ MAP Students will be automatically registered for both.
---
Both the EOP and MAP programs happen concurrently with the college's live orientation. They are on-campus, not virtual and mandatory to attend Purchase College in the fall. The duration of each summer program is below:
MAP: Students will move in to a college residence hall on Monday, July 18th and return home on Wednesday, July 20. Student will also participate in the college's general orientation session during this time.
EOP: Students will move in to a college residence hall on Tuesday, July 5th and return home on Friday, July 22nd.  Students will also participate in the college's general orientation session this week.
As a freshman admitted to Purchase College through the Educational Opportunity Program (EOP) or Merit Access Program (MAP), you will be participating in a rewarding experience designed to help you transition to the rigors of college life. The summer program will provide a head start on your college career by helping you become familiar with the campus, its community, students, staff and faculty. The EOP/MAP Summer Program is mandatory for all first year students. All EOP/MAP students will be assigned a Peer Mentor and a professional counselor/advisor. There will be scheduled group and individual meetings with topics related to college success and mini courses with college faculty.
EOP students will have classes in college writing/reading, psychology, sociology and philosophy taught by Purchase College faculty. MAP students will have sample lectures from various academic disciplines.
All students with any disability (learning or physical) who need special accommodations must notify the EOP/ MAP Office before June 15th via email- EOP@purchase.edu.
Students admitted to EOP/MAP must attend this summer program in its entirety and the college's orientation program at move-in (August).
EOP and MAP Residence hall Check-In information will be emailed to students in June along with detailed information about the respective programs.
Each Summer Program participant is assigned a Peer Mentor. This student peer will work with you to make your experience a positive one. Their role is to:

Develop and monitor social interaction and extracurricular activities.
Provide feedback to the EOP/MAP staff regarding student progress and needs.
Review any persisting problems with the director.
Provide feedback and assistance to students.
Build and encourage group cohesiveness for student/program success.
Represent the Purchase community and orient the 1st year student to resources and opportunities.
Continue work with their mentees in the Fall Semester as an Academic Coach.
Participation in any of the following activities may result in immediate expulsion from the summer program, campus judicial action and revocation of your admission to the college.
Any disruptive, violent or dangerous behavior directed at oneself, another person, or college property/materials.
Use and/or possession of any controlled substance, including alcohol and marijuana (cannabis).
Violation of program and/or campus policies.
Program Policies, Procedures and Rules
The EOP/MAP summer program is designed to introduce you to the college environment and to help maximize your potential for academic and personal growth while at Purchase College. In order to fulfill the objectives of the Summer Program, the following regulations must be observed:
Attendance: Workshops and Other Scheduled Activities: You are required to attend all workshops, classes, and program meetings. The only excused absences are for personal illness (you must notify your assigned EOP/ MAP counselor of illness to be cleared to miss workshops or program meetings). Program staff will monitor attendance. (An important part of succeeding in college). Plan to arrive 5 minutes prior to the beginning of class/scheduled activities.
Cell Phone Policy: Students are permitted to have a cell/smart phone during the program but will be expected to turn it off and put it away during all classes, workshops, meetings and activities.
EOP/ MAP Summer Program Curfew:  All students must be in the residence hall by 10 PM and in their own room by 11:30pm.
In addition to the above policies, all students are required to follow the college's code of conduct.
EOP:
Prior to the start of EOP Summer Program, you will need to send your assigned EOP counselor a copy of your Covid-19 Vaccination Card.
Check in will begin on Tuesday, July 5th at Fort Awesome Residence Hall. Please unload and park in Central 1 Parking Lot 
MAP:
Check in is Monday, July 18th at 7:30-8AM at Fort Awesome residence Hall. Please unload in front of the building for check in.
After check in, you will be directed to the Purchase College Orientation.
These are suggestions of things you may wish to bring to the Summer Program. Please keep in mind that you will be here for 3 (MAP) nights or 3 (EOP) weeks. (You must bring your own sheets, pillow, towels, pillowcase and blanket). EOP students will be housed in a double room with a private bathroom, remember to bring toilet paper and anything else you may need. 
For Your Room
Blankets, sheets, pillow, towels

Hangers

Alarm ( cell phone or other)

Desk Lamp
Clothing/Personal
Swimsuit (a swim cap is required if swimming)

Personal toiletries/Shower footwear

Umbrella

Money for snacks, miscellaneous

Water Bottle/beverages and snacks

Necessary medication

(notify staff prior to attending)

Detergent for laundry
You may also want to bring a sweatshirt for the air-conditioned bedrooms and classrooms.
You must be sure that all items of value are locked in your room when you are away from the residence hall.
The College/EOP/MAP is not responsible for any lost or damaged items.
Cars
Parking is available on campus but you will need to purchase a campus parking permit. Please let us know prior to your arrival if you plan to leave your car on campus. You will not be permitted to use your vehicle during the EOP/MAP summer program.
DO NOT BRING:
TV's

Incense/candles

Pets
Meals
The program will provide 3 meals per day and an evening snack. You may want to bring or purchase snacks in addition to the meals provided. There are filtered water stations throughout the campus so bring a water bottle.

PRIOR TO ATTENDING THE EOP/MAP SUMMER PROGRAM YOU MUST INFORM THE STAFF OF ANY SPECIAL DIETARY REQUIREMENTS.
EOP Students must submit proof of vaccinations/ boosters prior to July. They must also do a Covid Test before coming for Summer Program. If test positive, you cannot come and we will need to see the test results. There will be test kits available during Summer Program. If you test positive during the program you will be sent home. Face coverings are required for all indoor classes and activities.