Purchase Again Named Fulbright HSI Leader
Recognized by the U.S. Department of State for strong engagement with the Fulbright Program.
Purchase College is proud to be named as a Fulbright HSI (Hispanic-Serving Institution) Leader for 2023.
Each year, the U.S. Department of State's Bureau of Educational and Cultural Affairs (ECA) recognizes the strong engagement of select HSIs with the Fulbright Program, the U.S. government's flagship international academic exchange program.
Fulbright HSI Leaders demonstrate noteworthy support for Fulbright exchange participants and promote Fulbright program opportunities on campus. The initiative encourages administrators, faculty, and students at HSIs to engage with Fulbright and highlights the strength of HSIs as destinations for international students and scholars. Purchase College was also highlighted as a Fulbright HSI Leader in 2022.
The recognized colleges and universities include two Associates Colleges, five Baccalaureate Colleges and Special Focus Institutions, 14 Master's Colleges and Universities, and 25 Doctoral Universities.
Assistant Secretary of State for Educational and Cultural Affairs Lee Satterfield commended the institutions receiving the Fulbright HSI Leader designation this year.
"Representation matters and pairing the world-class educational opportunities that Hispanic-Serving Institutions provide with the power of Fulbright further enriches the experience and educational opportunities for students and scholars both at home and abroad."
Purchase College President Dr. Milagros "Milly" Peña, received the Fulbright-Hays/Garcia Robles Research Award for her work studying Latina activists in Mexico and Texas. Dr. Peña said,
"As a Fulbright recipient, my international research provided me with a whole new outlook and a deep appreciation that has enriched me both professionally and personally. I truly value these experiences and I'm proud that Purchase is working to provide our own students and faculty with transformative opportunities for global education and cross-cultural experiences."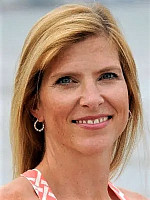 On November 9, the U.S. Department of State hosted a virtual workshop featuring representatives from Fulbright HSI Leaders, including Purchase College's Dean for Global Strategy and International Programs, Dr. Anne M. Kern.
The presenters shared best practices to engage and support students and faculty, increase the global footprint on campus through the Fulbright Program, host international Fulbright students and scholars, and build international networks. 
---
The Fulbright Program is the U.S. Government's flagship international academic exchange program with a longstanding commitment to diversity, working to ensure that participants reflect the United States and societies abroad.
The Fulbright Program works closely with the Hispanic Association of Colleges and Universities (HACU) to promote international exchange opportunities to staff, students, and faculty at HSIs.
This year's Fulbright HSI Leaders were announced at the HACU Annual Conference. Fulbright also works with Historically Black Colleges and Universities, the National Clearinghouse on Disability and Exchange, the American Association of Community Colleges, Diversity Abroad, and many more organizations.
---
The Fulbright Program is the U.S. government's flagship international educational exchange program. Since 1946, the Fulbright Program has provided more than 400,000 students, scholars, artists, and teachers from all types of institutions the opportunity to study, teach, and conduct research abroad. Fulbrighters build connections, gain experience, exchange ideas, and address global challenges.
Fulbright is a program of the U.S. Department of State, with funding provided by the U.S. Government. Participating governments and host institutions, corporations, and foundations around the world also provide direct and indirect support to the program.
Learn more about Fulbright, including information about Fulbright's efforts to further DEIA within the program and about the Fulbright HSI Leaders initiative.
---
Recent Fulbright Awards at Purchase College
In the past few years, Purchase College students Caleb Dowden and William Byram were awarded Fulbright awards. Both dance majors, Dowden went to Benin, West Africa to study how movement can reclaim history while linking the African Diaspora with the African Continent. William Byram pursued an MFA in Choreography at the Trinity Laban Conservatoire of Music and Dance in the United Kingdom.
Professor Laura Ricciardi, who is an Assistant Professor of Arts Management, received a Fulbright Scholar award to spend the 2021–2022 academic year teaching at the University of Messina in Sicily, Italy where she taught a course on comparative intellectual property and cultural heritage law.
Professor of Acting David Bassuk was awarded a Fulbright Scholar Award to spend the 2023-34 academic year in Salzburg, Austria where he is focusing on a project titled Immersive Storytelling Futures: Theatre, Virtual and Alternative Realities.
Renowned Beninese dancer and choreographer Marcel Gbeffa served as a Fulbright Scholar-in-Residence (S-I-R) for the Purchase College Conservatory of Dance for 2022–23.
Purchase College was awarded a Fulbright-Hays Group Projects Award by the U.S. Department of Education, which funded six Purchase College faculty members and six New York area K-12 teachers who participated in a four-week curriculum development and immersive foreign language program in Benin, West Africa, over the summer of 2023. Participants explored the intersection of Beninese languages, culture, history, educational systems, politics, and more, and brought back their knowledge in the form of new and revised courses designed for the levels they teach.