RIOTUSA '22 Signs Global Publishing Deal
The producer, songwriter, and recording artist is recognized for his pivotal collaboration with the rapper Ice Spice. 
---
"Stop Playin' With 'em RIOT"
When Ice Spice stood to accept her Best New Artist award at the MTV Video Music Awards last month, the first person she hugged was her producer, whom she gratefully acknowledged moments later, "I want to thank my producer RIOT for making the best music with me."
ICYMI
It's hard to have made it this far into 2023 without encountering the drill rapper Ice Spice. In the space of just over two years, she exploded onto the music scene via social media with her unique hip-hop sound, and then some—she's been injected into the cultural mainstream.
In case you missed it, in 2023 alone…
"Barbie World," her collaboration with Nicki Minaj, has amassed 103 million views on YouTube.
She collaborated with Taylor Swift, joining her onstage at MetLife Stadium, to perform the Karma remix—the biggest streaming debut for a female rapper in global Spotify history.
Dunkin' created the Ice Spice Munchkins drink, and she stars in their commercial with actor Ben Affleck.
Ice Spice is the musical guest on Saturday Night Live's long-awaited return following the writer's strike.
And the artist has 32,597,999 monthly listeners on Spotify.

---

The Collab
You can't mention Ice Spice's meteoric rise, however,  without crediting her friend and collaborator, the producer, songwriter, and recording artist RIOTUSA '22 (aka RIOT).
Born in Manhattan and raised in the Bronx, NY, RIOT first learned to play the drums at eight years old, which formed a solid foundation for his music career. He was surrounded by music from an early age—his father is DJ Enuff on New York City's venerable hip-hop radio station Hot97, and his mother also worked in the music industry.
RIOT and Ice Spice met during their first years at Purchase. Both from the Bronx and sharing the same major, Communications, they would cross paths in class and on campus (known in class as Ephrem Lopez Jr. and Isis Gaston). The music came later.
Thriving Music Community
While RIOT wasn't a music major, he thrived on the music community vibe here, spending the bulk of his time in the music studios surrounded by musicians.
"It just so happened that everybody that was around us had a passion for music, so we ended up connecting on that. When I did find out that she did music, I definitely saw something and heard something," RIOT told Billboard. He encouraged her to rap.
"The first thing she sent me was on a drill beat. I was like, 'Not only do I not know any rappers that are female, but this is somebody who's doing it on a whole different kind of beat … This could be something,'" he explained to Billboard.
While drill music can be controversial for its violent lyrics, Ice Spice brings a different sensibility, often writing about relationships.
"She's relatable and bringing a new voice for the women. Not just women, for everyone," RIOT told the Finals blog.
"As I was growing, she was growing, and we just kept it in-house and are growing together. She's the one that told me to sample In the Name of Love, so it's definitely a collaborative process," he told Finals.
While Ice Spice did not continue her studies at Purchase, the friendship and collaboration continued.
Getting Noticed
They worked together on her debut single, "Bully Freestyle" in March 2021. But it was "Munch (Feelin' U)" released in August 2022 that went viral on TikTok and now has more than 108 million streams on Spotify.
RIOT was executive producer for her six-track EP Like..?, which hit No. 5 on Billboard's Top R&B/Hip-Hop Albums chart, and he also co-wrote the Taylor Swift remix of "Karma," which hit No. 2 on the Billboard Hot 100 chart.
The music industry has taken notice of RIOT's role in Ice Spice's meteoric rise, leading to his global publishing deal with Warner Chappell Music (WCM).
"Riot has quickly become one of the most exciting and in-demand producers to emerge from New York's legendary hip-hop scene," says Ryan Press, President, North America at WCM.
"He's creating hit after hit with Ice Spice, and we're super lucky to get to support him at this stage of his journey. I've had the opportunity to work with some of hip-hop's biggest music producers during the early stages of their careers, and I know Riot is well on his way to being one of the best producers of his generation," Press says.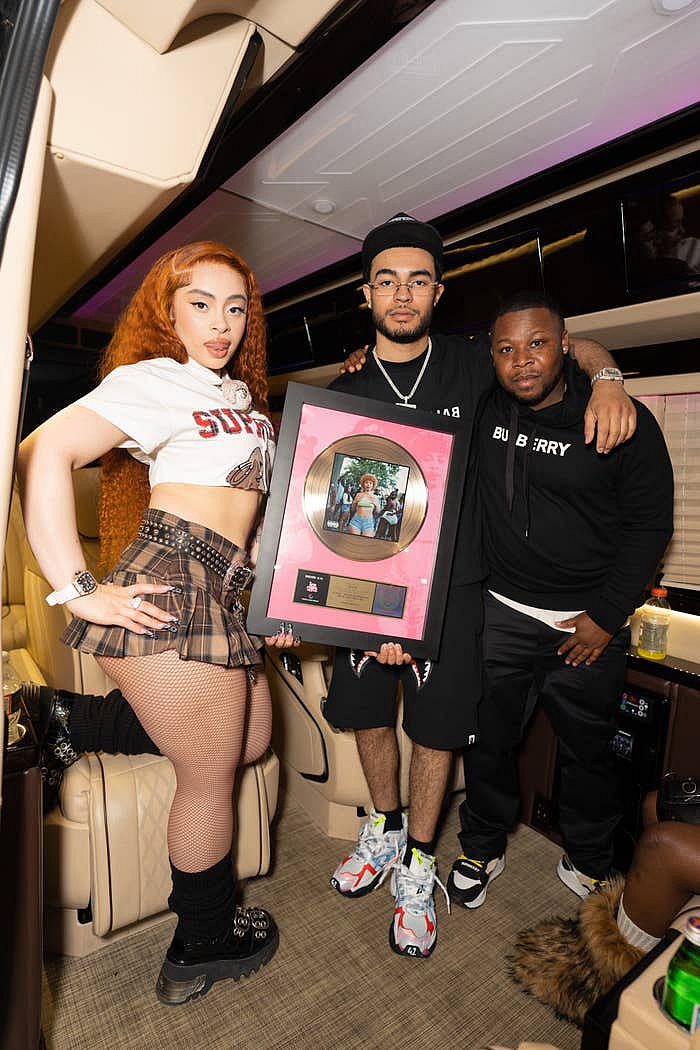 Ice Spice, RIOTUSA '22, and James Rosemond Jr. (CEO/Founder, Mastermind Artists, Manager to RIOTUSA and Ice Spice)