Alumni Spotlight: Chelsea Spengemann, MA '11
Independent curator and consultant with a specialization in artist estates
This is part of a series produced by Eve Hlavatovic '22, a communications intern at the Neuberger Museum of Art and a NEU Student Voices blogger.
Chelsea Spengemann MA '11 is an independent curator and consultant with a specialization in artist estates. She is currently director of the Stan VanDerBeek Archive where she has overseen installations and acquisitions of VanDerBeek's multimedia works as well as the preservation of VanDerBeek's experimental films since 2008.
Spengemann also recently began working with the estate of filmmaker and photographer Susan Brockman.
---
Eve: What led you to Purchase College and the Art History MA program?

Chelsea: I came to Purchase after having completed an MFA in photography and then working in small art galleries for a few years. The economic collapse of 2008 resulted in the closing of the gallery where I worked and a reevaluation of my path. Luckily, just prior to closing I became involved with organizing the estate of Stan VanDerBeek. VanDerBeek was a pioneering multimedia artist active in New York in the 1950s -1960s who then died in 1984. He was the father of two of the gallery owners so before we closed we used the gallery space to assess what was in the estate and then put together an exhibition focusing on a range of his projects from painting to a multiscreen film, video and slide installation. I realized through my gallery work and this exposure to an artist's estate that I wanted to develop my skills as a researcher and writer. I was not completely sure I wanted to commit to an Art History PhD program so I thought the MA at Purchase was ideal for exploring the field. The program was most affordable, small, had some great professors and of course the connection to the Neuberger Museum.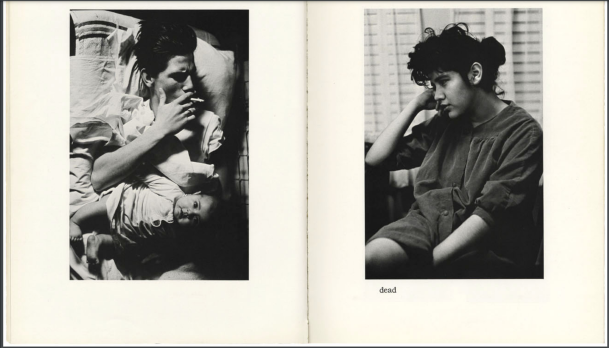 Black and white photographs by Larry Clark, the celebrated photographer and filmmaker, taken from his first book Tulsa (1971).Eve: For your curatorial fellowship, you created an exhibition of Larry Clark's Tulsa Portfolio (1972) from the Neuberger's permanent collection. What was one of the most important or significant things you remember learning while curating that project?

Chelsea: Aside from the deep dive I did into the specifics of Clark's project and how Tulsa became iconic, the most significant thing I learned was that I loved researching, organizing exhibitions and talking to people about art. I also made a book called The Tulsa Reader which was basically my binder of research edited into book form. Teaching myself how to make a book was fun and another way to bring people into the project.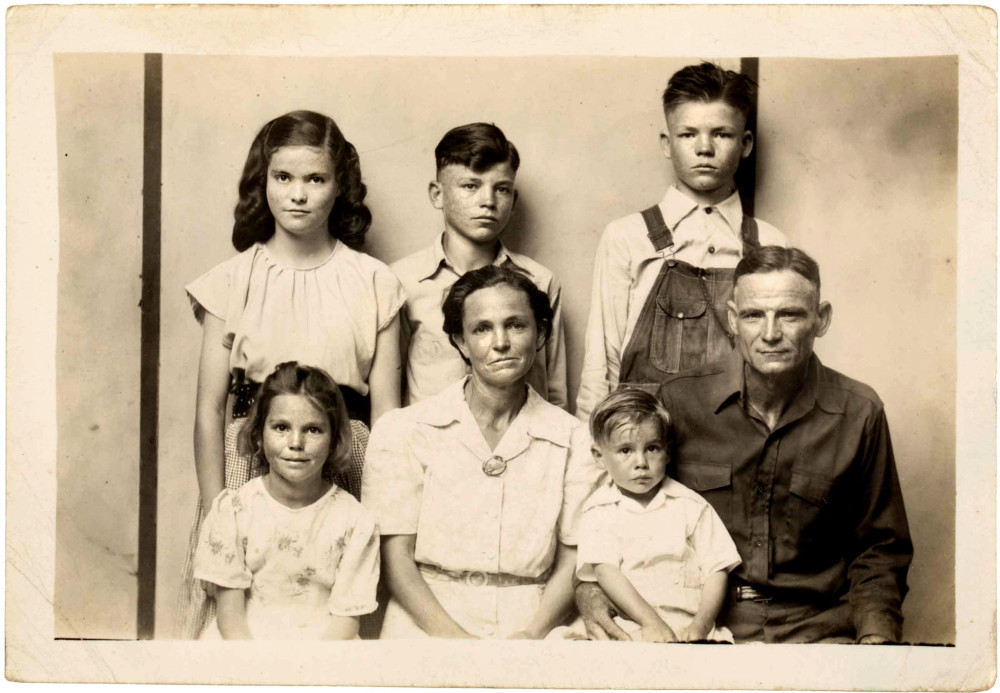 Image in Becoming Disfarmer
"Herman, Olive, LaVerne, Charles, Glen, Velma and Troy Lee. Taken in 1947"
Eve: After your fellowship project, Neuberger director Tracy Fitzpatrick hired you to curate
Becoming Disfarmer, an exhibition of images by Mike Disfarmer that were drawn largely from the museum's collection. Both the Tulsa Portfolio and Disfarmer exhibitions focused on photographs. Is photographic art one of your preferred mediums?

Chelsea: Yes, I have always studied photography and used to have my own practice. Having primary experience of how photographs are made was key to my engagement with those projects and understanding of the art. The Instant as Image was another photography exhibition I organized using the Neuberger's wonderful collection. This show was inspired by the book "Photography and the Art of Chance" by Robin Kelsey and was up at the same time as a fantastic exhibition on Group f.64 by Karolina Hac who was the curatorial fellow at that time.

Eve: How did your work in the MA program and your work at the Neuberger Museum of Art prepare you for your career as a curator?

Chelsea: My work in the MA program helped me gain valuable critical research and writing skills as well as a more in-depth understanding of American art history. My work at the Neuberger, beginning with an internship in the preparator's department and culminating in curating three photography exhibitions, gave me incredible insight into how essential collaboration is for curatorial work. The layers of effort given by numerous people to present a particular idea about art to a specific, yet varied audience is often invisible once the galleries open. Getting to be a part of the team at the Neuberger and learning everything from lighting and dusting vitrines to making publications, working with lenders and navigating numerous relationships is an experience for which I will eternally be grateful.

Eve: You recently co-founded Soft Network & AFELL. Tell us about those projects.

Chelsea: Soft Network is a project I started with artist and educator Sara VanDerBeek. We have worked together (along with her siblings) for over ten years taking care of her father's estate. When we returned from quarantine last summer we both felt the need to do things differently. As mothers of school-aged children we were both suddenly faced with an overwhelming amount of responsibility at home and a drastic decrease in income. Creating this project was a way to survive our new world and our response to an increasingly isolated, mediated life experience. The only way forward in our minds was to work cooperatively with other artists and representatives of artist's estates to realize projects that would hopefully generate income for all involved. We wanted a new model for showing and selling artwork, ephemera and publications at a range of price points. We work with my friend Rachel Comey as a retail partner, doing projects in her stores and online. I am very interested in the idea of being able to purchase art directly online. We also have an ambitious group project planned for this summer in Springs on Long Island in a gallery in the store Stanley & Sons, which is located in the historic Art Building. You can follow our projects on our website softnetwork.art.

Estate work can be very solitary in focusing on one artist and often working alone while doing it. Out of wanting to find a community of others doing similar work, I started AFELL (Artist's Foundations and Estate Leaders List) with Tracy Bartley, Director of the R.B. Kitaj Studio Project. We share resources, have monthly discussions and welcome anyone working in the field. We have a list of about 80 members! Artist estates and all the long-term work involved is one of the many lesser known, yet rapidly developing parts of the art world.

Eve: What would your advice be to students currently in the Art History MA program?

Chelsea: Find a mentor and work at the Neuberger if you can! It's an incredible resource.


---

For students looking to have a career in the arts, looking to alumni who've been in your shoes is a great way to gain insight into life after the diploma. Stay tuned for more Alumni Spotlight conversations with Purchase students who interned at the Neuberger Museum of Art!

Eve Hlavatovic
Neuberger Museum of Art
Spring 2021 Communications Intern
NEU Student Voices Blogger