Sonia Barkat '21 Publishes Collection of Plays
Journalism major Sonia Barkat '21 recently had a book of plays published, Winter Stars: Three 10-Minute Plays: From Tragedy to Fantasy to Comedy.
Barkat came to Purchase to study new media, but decided along the way she wanted to focus on writing. She took a Journalism I class and it "grabbed" her. She switched her major to journalism for the breadth of writing skills it instills. "I wanted to be versed in multiple styles of writing, and I think journalism teaches you important skills that can apply to any kind of writing you do (or field you go into.)"
It also allows her to shine a light on topics that are meaningful. "I love the major because I feel like I'm actively learning with every class I take, and because it gives me opportunities to bring attention to topics I care about. I've written environmental articles for the Purchase Phoenix, and working on those pieces was extremely fulfilling to me."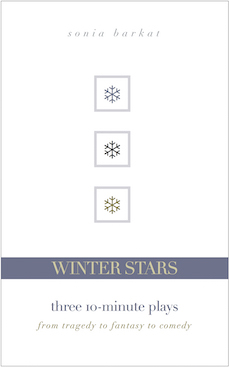 The Ossining, NY native was already familiar with fiction, she's currently working on writing a novel, but she discovered her passion for playwriting more recently. "I took a class on it and immediately loved it. It's very dialogue based, and dialogue has always been my strong suit, so storytelling in that format came fairly naturally."
Regardless of the writing genre, it's Barkat's love of storytelling that inspired her to write plays that proved to be worthy of publishing. "My inspiration for writing plays comes from my love of story and my desire to share those stories with others….I think very visually when I write. I think about the scenes, how they look to me, and I write lines like I'm hearing them—I listen to the beat of the words and arrange them as smoothly as possible, which works well for plays, where the lines are meant to be spoken."
Although her mother and sister both work in the book editing/publishing industry, she found the publishing process challenging, one that has to be experienced to appreciate fully. "There was still something I learned from having my own work published that really took experiencing it firsthand to sink in, which is that if you don't work hard to market your book and get the word out—twice as hard as it was to write the book in the first place—it won't sell."
While she's unsure of her career path, she knows creative writing will always be a passion pursued.