Samara McLendon '21 Wins Prestigious Sassy Award
She competed to win the 2019 Sarah Vaughan International Jazz Vocal Competition.
The Sarah Vaughan International Jazz Vocal Competition continued its annual "search for the world's next great jazz singer" yesterday and for the second time in the award's brief history, a singer from Purchase came out on top when junior Samara Joy McLendon (jazz studies) was named the winner for 2019.
McLendon took the stage at the New Jersey Performing Arts Center in Newark in a stunning purple velvet dress to compete against four other highly accomplished singers. It was her voice however that took the audience's—and the judges'—breath away as she performed "Perdido."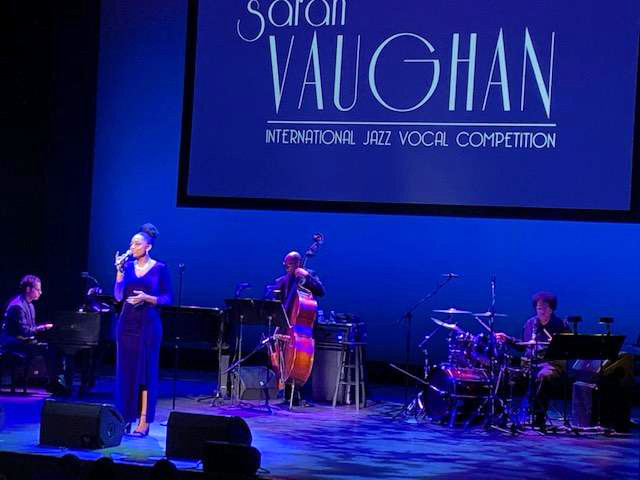 According to wbgo.org, McLendon, a Bronx native, was the one to beat. "The ease with which she scatted, coupled with her natural poise and grace beyond her years, was eerily reminiscent of the Divine One. It was clear that she was channeling the regal spirit of Sarah Vaughan," writes Keanna Faircloth.
Pete Malinverni, associate professor of jazz studies and head of the jazz studies  program, lauds McLendon as a performer and as a person.
"Ever since the day we met Samara McLendon, she has proven to be one of our hardest working, most collegial, and popular students. She comes by it honestly, too, being just the latest in a long line of musical McLendons. Every time she sings, you can see the joy she takes in sharing her tremendous gifts, so her middle name, Joy, is most apt. We in Jazz Studies look forward to working with Samara throughout the rest of her career here at Purchase, and her future career as a singer, which promises to be a most fruitful one," he writes.
Among other appearances, McLendon has sung with Jon Faddis and his quartet as a surprise special guest at Dizzy's Club (Jazz at Lincoln Center) in Manhattan, and most recently, as a featured musician with "Jon Faddis and Friends" at a special garden party for members at the Louis Armstrong House Museum in Corona, Queens, and other venues.
McLendon studies vocals with Alexis Cole, visiting affiliate artist, who herself has been compared to the Sassy singer in JazzTimes magazine. "Cole's easy sense of swing is strongly reminiscent of Sarah Vaughan," writes Christopher Loudon.
Visit wbgo.org to hear McLendon interviewed prior to the competition.
(In the video McLendon submitted to enter the competition, featured on the WBGO website, she's accompanied by guitarist Leonid Vintskevich, Jr. (Leonid Morozov), who's also a member of the jazz studies program.)
---
The First Sassy Award Winner
McLendon is the second winner from Purchase in the award's history. The Sarah Vaughan Competition, nicknamed the SASSY Awards, honored another Purchase singer, Cyrille Aimée, with its inaugural prize in 2012.
Aimée is on the December 2019 cover of Jazz Times magazine and recently earned a Grammy nomination.