Assistant Professor of New Media
The Work
Working across a range of media, including video, sound, performance, sculpture, collage, and installation, internationally acclaimed artist Sara Magenheimer disrupts, manipulates, and defamiliarizes language with bold combinations of image and text. Her videos incorporate traditional filmic editing techniques alongside those inspired by music and collage.
Recent solo exhibitions include The New Museum, New York (2018); Portland Institute for Contemporary Art, Portland, OR (2017); The Kitchen, New York (2017); Chapter NY (2017): Art in General in partnership with kim?, Riga, Latvia (2016); the Center for Ongoing Research & Projects (COR&P), Columbus, OH (2016); JOAN, Los Angeles (2015); and Recess, New York (2015).
Magenheimer's videos have been screened at the Flaherty Seminar (2019), International Film Festival Rotterdam (2018), Brooklyn Academy of Music (2017); the New York Film Festival (2017, 2015, 2014); Images Festival, Toronto (2018, 2017, 2016, 2015); Anthology Film Archives, New York (2016); EMPAC, Troy, NY (2016); and the Museum of Contemporary Art Chicago (2015).
Career Trajectory
"I followed an interest in language and art to Boston where I studied Spanish, Italian, and Mandarin Chinese and film/literary theory and philosophy at Tufts University while getting a BFA from The School of the Museum of Fine Arts, Boston. It was a rare 5 year dual-degree program for which I'm very grateful to have participated. Then I started a band, moved to New York City and spent the next 8 years or so touring and releasing music as my main art practice. It felt like the most immediate way to engage with an audience and much more authentic transaction than hanging work in a gallery. When it felt like time to re-engage with an art audience, I went to Bard for my MFA in Film/Video."
Current Projects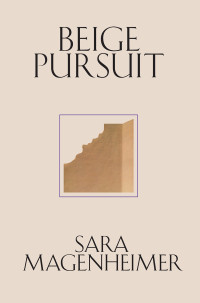 "I just wrote Beige Pursuit, a book that weaves together a few voices and styles of address. Some of this text will be used in the videos I'm currently developing. I have also started a record label called Rare Violins to record and release artists' writing. It's so valuable to hear writing in the voice of the writer. Our first release is by Rindon Johnson and will come out within the next month. I'm very excited for people to hear it!"
Advice to Students
"Each thing you do is practice for the next thing, and that thing is practice for the thing after that, and so on."
Sara's website:
http://saramagenheimer.com/
Written by Susan Kouguell, Lecturer in Screenwriting