Sixth Annual Art+Feminism Wikipedia Edit-a-thon Follow-up
Purchase College Library was one of the 265 satellite locations to host the Sixth Annual Art+Feminism Wikipedia Edit-a-thon on Saturday, March 16, 2019.
About Art+Feminism
The day-long event, co-organized at Purchase by Kim Detterbeck, Art Librarian, and Marie Sciangula, Assistant Director of the Teaching, Learning, and Technology Center, aims to address the gender imbalance of Wikipedia editors, contributors, and content. This year's campaign theme is focused on Gender + The Non-Binary.
Originally organized to coincide with International Women's Day, the Art+Feminism Wikipedia Edit-a-thon was designed to generate coverage and representation of women, feminism, and the arts on Wikipedia and to encourage women editorship – a direct response to the well-known gender gap. Wikipedia's gender trouble is well-documented; in a 2015 survey, the Wikimedia Foundation found that less than 20% of its contributors identify as women. This lack of women's participation has led to an alarming dearth of content about women and art in the world's most popular online research tool and the fifth most popular website worldwide. Art+Feminism's Edit-a-thon impacts the gender gap through crucial improvements to art and feminism related subjects on Wikipedia.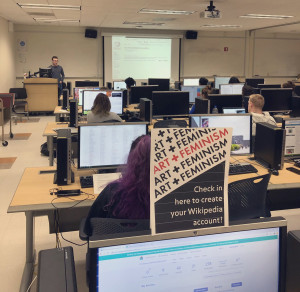 2019 Event Outcomes
Sixty participants (students, faculty, and staff) attended this year's event, most of whom are students from Professor Elizabeth Guffey's Design History & Theory:1750–Today course, Professor Jonah Westerman's Art Since 1945 course, and Professor Jane Kromm's Women Artists and Feminist Criticism course. Experienced Wikipedian Robert Mendelson was on hand to provide guidance and training to those new to working with and editing Wikipedia. Robert provided our participants with training on basic editing, creating citations, evaluating sources, adding images, adding internal and external links, drafting and creating new pages, and notability concepts.

Purchase College Library's Art+Feminism Wikipedia Edit-a-thon currently ranks #5 worldwide in terms of participants. A total of 130 articles were edited, three articles were created, and over 375 edits were made. Throughout the day, attendees edited the Wikipedia pages for women artists including the late Barbara Hammer and Carolee Schneemann, Jen Liu, Jordan Casteel, Jessica Hische, Che Gossett, An-My Lê, Sydney Padua, and Elizabeth Keith, among many others.
Looking Toward the Future of Art+Feminism
We hope you will consider joining us in 2020 for the Seventh Annual Art+Feminism Wikipedia Edit-a-thon!