Why Purchase is Hosting Black Graduation Ceremony
Meet the students who are planning this year's Black Graduation Ceremony
Meet Kukuwa Ashun and Jada Cheek, two student leaders who are planning the 2018 Black Graduation Ceremony. In order to learn more about this event and why they spent a year planning this event, we sat down and talked about it all.

1. What inspired you to plan the Black Graduation Ceremony?
KA & JC: "We attended a version of this ceremony last year during senior week and we absolutely loved that it happened. Even though it was put together in three days, we were inspired to do it on a larger scale with more people, more notice, and more planning. We also wanted to do more justice for the event this year. As black students on this campus, we deserve this kind of attention."
2. How do you think the Purchase community can benefit from this event?
KA & JC: "It sets the tone for other students to create events if they feel like they are an underrepresented group on campus. For example, when we did our own research, we also found out that other schools host Lavender Ceremonies (end-of-the-year graduations attributed to the LBGTQUIA community). It's amazing; there are so many different ceremonies that can be put together when students and the administration come together! We hope that students will continue to utilize their voices and start their own traditions on campus."
3. Throughout your Purchase career, is there one thing that shaped who you currently are?
KA & JC: "Our role in the PSGA definitely shaped our Purchase career. We were both fortunate enough to be club leaders around the same time so we were involved in cultural events all over campus. These clubs made us feel like we had a bigger purpose here and that we were apart of legacies. As a result, this kind of involvement allowed us to do more for the black students on campus."
4. What has been your most rewarding experience?
KA & JC: "Making it to our senior year is a reward! College is hard and becomes very, very stressful. Not a lot of people make it to their final year of college. It's a blessing to accomplish a feat like this while we're still on top. We're still motivated, still working hard, and still taking academics seriously while maintaining a personal life."
5. What is one wish that you have for Black-identifying undergraduate students at Purchase?
KA & JC: "We definitely want black-identifying undergraduates to have black faculty and staff as mentors because it would be amazing for these students to have someone who look like them – who they look up to – throughout their college experience. Mentors are essential for success."
6. What advice do you want to leave for incoming students?
KA & JC: "All of your resources are right in front of you. If you look hard enough, you'll realize that everything is around you. Utilize your time here at college because it only happens once. You're paying for college, so you might as well get the most you can out of it. Also, definitely have people around you that will motivate you. If you have friends who are slacking off, you're going to wind up doing that too. Find your energy and keep it around you for as long as you can."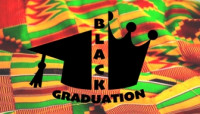 For those interested in nominating a student or faculty member for one of the Black Graduation Ceremony awards, you can do so through this link. 
This event is open to all campus community members and will also be part of the 2018 Senior Week schedule.