Meet the Writers: Emmy Kopstein
April 23, 2022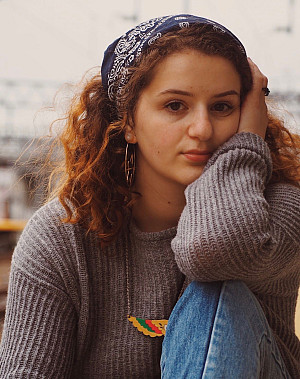 SDG 2: Zero Hunger
I came to find myself as a global citizen when I began to recognize the value in learning about other cultures. Being a part of Global Scholars has educated me on so many different global issues and has taught me how to address them with respect and dignity. An overarching goal of mine would be to help aid with food insecurity– included in our zero hunger initiative– and homelessness on a global scale, as well as participate in educating those around us on the severity of the issue.
When I visited Puerto Rico, I volunteered at a soup kitchen. It was there that I learned so much about Puerto Rican customs and how to aid them specifically in their poverty, which I learned is very different from the way homelessness, poverty, and food insecurity is addressed in the United States. I also learned a lot about why Puerto Rico is so impoverished, and how so much of it was intentional from the United States. The United States took a huge role in the destabilization of Puerto Rico's economy, assuring their reliance on the United States. Since I also volunteered at a Soup Kitchen back in New Haven, it was very interesting to compare the experience of volunteering there and volunteering in Puerto Rico. It helped me recognize that addressing the issue of food insecurity is vastly different depending on where you are globally. As much as poverty and food insecurity are extremely prominent in the United States, compared to these poorer countries, we have enough food to feed our entire population. Our issue is predominantly with the distribution of it. In other countries, however, food is scarce, which makes the issue of food insecurity look extremely different.
In Puerto Rico, over 45% of its population lives below the poverty line, which is almost triple the amount in the United States. Much of this is due to relentless debt and loan sharks persisting through the nation. They also are dealing with intentional destabilization from the United States. In Puerto Rico, there is a lot of debate whether Puerto Rico should gain their own independence. There are three main parties with different ideas on what should happen. The Partido Nuevo Progresista (PNP) desires statehood for the nation as a part of the United States. The Partido Popular Democratico (PPD) aims to continue being a commonwealth of the United States. Finally, the smallest, and arguably the most radical political party, is the Partido Independentista Puertorriqueño (PIP), which wants full independence for Puerto Rico from the United States.
I feel very fortunate that I was able to travel to these places, and see what these issues might look like on a global scale. It was when I was traveling that I was able to see how passionate I was about these issues, and how these issues are apparent globally. Being a part of Global Scholars gives me the tools I need to look at these issues from a global lens and articulate what I can do to help. It has inspired me to want to continue growing in a global way and learn more about resistance against colonial violence, and how educating yourself globally is a tool against this.
Emmy Kopstein
2021 Cohort
"Commonwealth of Puerto Rico vs Sanchez Valle, No. 15–108. (Argued January 13, 2016—Decided June 9, 2016) Supreme Court of the United States" (PDF). Supreme Court of the United States Blog. June 9, 2016.