Meet the Writers: Karim Al-Khalidi
April 21, 2022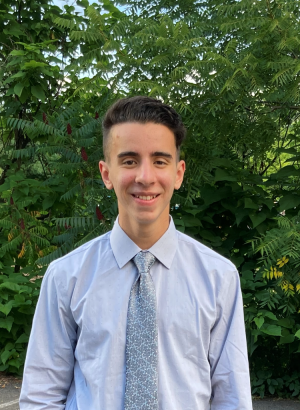 SDG 3: Good Health and Well-Being
I first became introduced to the true idea of globalism at a model UN conference in New York City. At the event, students convened from around the world to discuss ongoing dilemmas encountered by the real UN. While formal, the event was more about creating dialogue. It was a chance for us to see what we had in common and how interconnected all societes are–we play the same games, use the same apps, and laugh at the same dumb jokes. This interconnectedness made it easier to engage in constructive dialogue regarding social issues or climate change because we all saw each other as friends. Of course, I did not see everything or engage in philosophical discussion much, but I did not see anyone as "different." Many make globalism out to be a foreign experience that requires you to see new parts of the world; while that may be true for some, having a global identity often starts with individual connections. I noticed that everyone wants to be heard in one way or another, and by listening to someone of a different culture, faith, or background you are meeting their desires to be heard. You have reaffirmed to them that they have a spot in your perception of the world. I am constantly reevaluating and coming back to the concept that having a global identity does not mean leaving the country; it means leaving your biases behind and asking for help to be a better human being.
I draw inspiration for these ideas from studying science. As with most concepts in biology, chemistry, or medicine for that matter, new peer-reviewed journals are published every day, contributing to various bodies of knowledge. Every day, researchers release new publications to support existing topics, disprove, or present something new that blows everyone away, and ends up threatening the work of others. The point being that success requires a continuous desire to learn–the same goes for understanding the world. It would be wrong for one to say they "understand" a culture or country because learning does not stop. A good scientist is willing to reexamine their ideas in light of new evidence, and a global citizen must similarly reexamine their biases when exposed to new ideas.
I hope to use this blog to discuss topics related to my aspirations in medicine and how they coincide with my global identity. I am particularly interested in healthcare innovations, specifically novel methods/approaches of delivering care to those who have difficulty receiving it. For example, scientists develop ways to store vaccines so they may be delivered to rural areas. Or, engineers design mobile clinics with full-fledged surgical units that can be implemented into war zones. These novel approaches both highlight the ingenuity associated with improving medical care and the incredible difficulty in trying to provide quality care to all people. I also enjoy examining how scientific principles and ideas manifest themselves in the popular culture that I enjoy. This includes pointing out how 20th century writers with and without scientific backgrounds envisioned the state of technology today. From auto-landing space shuttles to earbuds, there have been a plethora of examples (correct and incorrect) in the novels of the science fiction writers such as Ray Bradbury and Isaac Asimov. Also, how do today's authors envision the state of technology in the future? Medical innovation and science fiction, while quite different, connect many people—and these global aspects drive my interests.
Karim Al-Khalidi
2021 Cohort