Meet the Writers: Jacob Hobson
April 19, 2022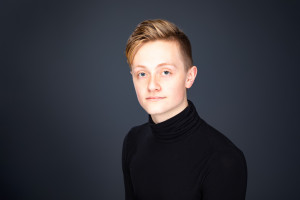 SDG 16: Peace, Justice, and Strong Institutions
To be a global citizen is to be conscious and attentive to our actions and their greater impacts. To me, global citizenship begins as a mindset– or a way of looking at humanity and the world– but ideally extends far beyond that to become a way of life that permeates every aspect of one's being. The cultivation of my personal sense of global citizenship has manifested through studying our sociological relationship to the world.
Being both an artist and a scholar, I have found passion for education of the symbolic structures that build our global society. The stigmas, stereotypes, and prejudices throughout the world are all based in a fundamentally symbolic sense from which each individual perceives a situation– framed and further reinforced by their experiential development. It is the misunderstanding of why another perceives something different than oneself that conflict may arise.
I am an avid supporter of opening dialogues. While not always easy, it is only through open communication that any resolution can be found. By talking through a concept or ideal, all parties involved will have a better understanding of the subject content. Speaking about an idea activates a fundamentally different part of the brain and pushes one to reword an idea into their own understanding of it, allowing for a deeper comprehension. Whether on a micro-scale between individuals or a macro-scale between global entities, it is humans' biological imperative to understand the world around us.
However, from a global perspective, the culture in which one is raised has a heavy influence on that individual's frame of the world. Through this macro-lens, we see immediate conflicts of interest and perception between groups of people. While discussion does take place in terms of global relations, I believe a heavier emphasis should be placed on the educational component. The ways in which each individual perceives the world is a complex layer of symbols adapted to the experiences they have had in life; therefore, the reactionary unrest we may see is something we can never hope to understand without opening a dialogue from the source.
In one of my all-time favorite essays, "A Clue to the Nature of Man: the Symbol," Ernst Cassirer sums up this idea nicely by describing the complexity of the ways in which humans relate to the symbols of the world around us, precisely stating, "they are the varied threads which weave the symbolic net, the tangled web of human experience." This 'tangled web' is something we cannot ever hope to understand without institutions in place to educate one another on why we act and structure life the way we do.
Global citizenship is manifested by aspiring to eliminate the social and psychological boundaries that perpetuate conflicts from lack of communication and dialogue. Being a global citizen involves a commitment to being intentional about finding ways to overcome these boundaries and subsequent inequity, and I have found that striving to understand and appreciate the experiences of others, especially when they are different from my own, aids both myself and those around me to grow as globally conscious individuals.
Jacob Hobson
2020 Cohort– Founder and Editorial Committee '21-'22
O'Brien, Jodi, and Ernst Cassirer. "A Clue to the Nature of Man: The Symbol." The Production of Reality: Essays and Readings on Social Interaction, 6th ed., SAGE Publications, Inc, 2017.