Meet the Writers: Ria Jacob
April 16, 2022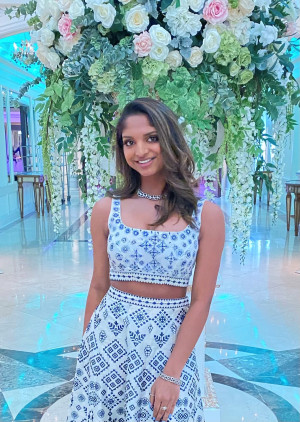 SDG 3: Good Health and Well-Being

Being a global citizen, to me, is about engaging in my own community, learning about what is occurring globally, and helping to better the world around me. Through my own travels, I have realized the importance of learning about other cultures and values. I believe each person becomes more empathetic and wiser as they experience a culture different than their own. Learning about a different religion or country does not only give someone knowledge about the challenges that group may face or their morals, but it also allows traits such as tolerance and empathy to develop.
I believe community engagement and thinking globally is what betters people and helps contribute to fixing issues such as the health disparities that many parts of the world experience. The way I most relate to my own global identity would be through my interest in healthcare and the medical field as a whole. Early on in life, I could tell the perfect healthcare system seen on TV ads and shows was very different from those of patients who lived in urban, more densely packed areas. My own father works at a clinic in an urban neighborhood where most patients are predominantly POC and English is not their first language. Even from a young age, it was apparent that there was a difference from what was advertised to what was real life.
Globally, health disparities can be seen in numerous ways. Personally, I noticed several disparities in healthcare during the COVID-19 pandemic alone. For example, the idea that there was a higher mortality rate seen in POC than that of their White counterparts is outrageous to me. Why does the color of one's skin play any part in mortality rates in a pandemic? I questioned whether it was due to genetic composition differences or because of the lack of services available to communities with a high POC population. It was also alarming to hear how hard it was for some countries to gain access to vaccines while other countries had a surplus in them.
Seeing how everything played out during the COVID-19 pandemic, for example in the clinic my father works at and local hospitals near me, made me very aware of the health disparities present in my own state but also that in other states and countries. It has always been crazy to think about how proper healthcare, something so necessary, is deemed as a privilege or luxury in so many parts of the world.
These early experiences in life ignited my passion for healthcare and my need to learn more about the root for such problems. I am hopeful that throughout my life I can make some sort of change, even if it is on a smaller scale, to the healthcare disparities seen in so many countries in this world.
Ria Jacob
2021 Cohort