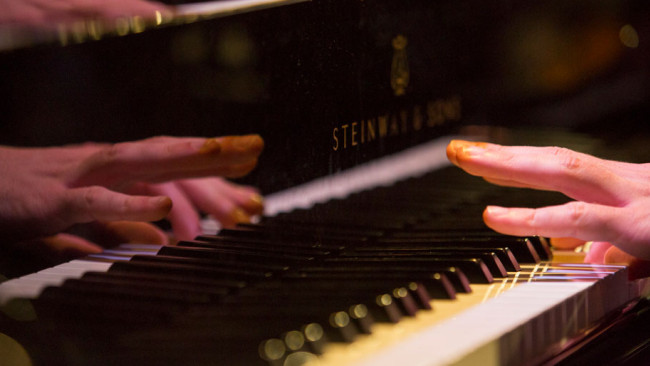 The piano program is dynamic, ambitious, and rigorous. Purchase is proud to be an all-Steinway school and we provide our students with a first-rate practice situation, with a large number of piano studios, each with its own Steinway B.
The piano program at Purchase College is acclaimed. We offer world-class teaching in a caring environment and attract students from throughout the United States as well as internationally. We award a Bachelors of Music degree, a Performers Certificate, a Masters degree, and an Artist Diploma. Students benefit from a strong emphasis on performance, with abundant performance opportunities in the Conservatory's Recital Hall, which boasts superb acoustics. Pianists perform in three recitals per semester, each at the Recital Hall. Visiting artists who have given master classes at Purchase include Lang Lang, Vladimir Feltsman, Garrick Ohlsson and Robert McDonald of Juilliard. Pianists also collaborate with instrumentalists and receive chamber music coaching from the piano, strings and wind faculty.
Purchase prides itself on being able to tailor the education it offers to meet the needs of individual students. Pianists at Purchase can pursue interests in a variety of specialties. Pianists interested in contemporary music can participate in Purchase Contemporary Ensemble, which performs significant new music written in the past 50 years, as well as Purchase New Music, in which students collaborate with composition majors in developing and performing new work. Pianists interested in jazz piano are offered the opportunity of classes and lessons with the renowned Purchase jazz faculty. And students who would like to explore an interest in vocal collaboration are given the opportunity to work with singers throughout their time in the program.
Our aim in the piano program is to give each student the opportunity to fully explore and develop their own unique artistic voice. Our students graduate and go on to successful careers as performers, teachers, and musical entrepreneurs. Many students come to Purchase to receive a top conservatory education which will enable them to join the many Purchase graduates who have gone on to both masters and doctoral studies at other first-rate conservatories, earning scholarships and fellowships.
Purchase is located in a beautiful country setting, only 35 minutes away from New York City. At Purchase, students have the ability to breathe, concentrate, and collaborate, and then hop on the train and access one of the most vibrant cultural scenes on the planet.